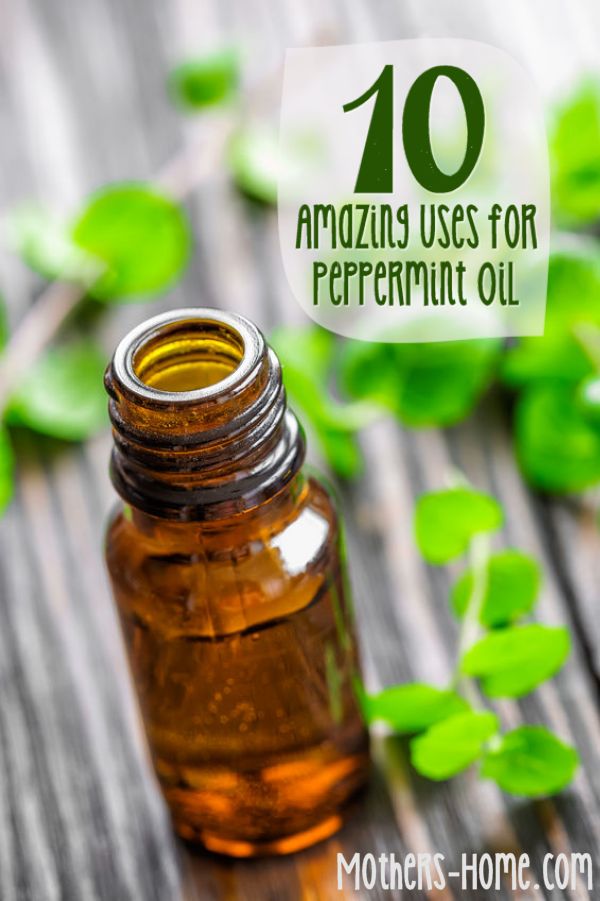 Awhile back, I bought my very first jar of coconut oil. I wasn't 100% sure of what to do with it, but I knew I would find plenty of options online. So, when I bought myself my first bottle of Peppermint Oil
(affiliate link), I felt the need to do the same thing.


I had read somewhere that peppermint oil is good to use for headaches, and, since I suffer from migraines, that was the main reason I bought it. I knew, however, that I would find plenty of other uses for it, and I wasn't disappointment. I hope you will find something on this list that you find useful!
1 – Use Peppermint Oil for Headaches
Of course this was my #1 reason to buy peppermint oil; luckily, I have not had a reason to try it yet (yay, no headaches). From what I have read, you can simply put a drop of peppermint oil on your fingertips and gently massage them on your temples. You can also rub it along your headline, the back of your neck, and your sinuses.
2 – Use Peppermint Oil for Allergies
So, I guess that peppermint oil works great on relaxing the muscles in your nasal passages, which helps clear out all of the bad stuff (pollen, dust, etc) that can cause allergic reactions. I read where you can diffuse the peppermint oil and inhale it or you can mix it with coconut or olive oil (they call these 'carrier oils') and rub it across your forehead, your sinuses, the back of your neck, and the bottom of your feet. If you are like me and don't have a diffuser
(affiliate link), you can make one using a candle or mug warmer.
3 – Use Peppermint Oil for Stomach Issues
The more I read about peppermint oil the more happy I was to have my own little bottle! I get frequent heartburn and I read that if you put a drop or two in a cup of tea, along with some honey, it can help. I also read that you can mix several drops of peppermint oil with coconut or oil oil and rub it into your stomach to help relieve stomach discomfort. It is also supposed to help with bloating and nausea.
4 – Use Peppermint Oil to Help Control Your Appetite
Supposedly, next time you are craving a snack between mealtimes, all you need to do is take a whiff of peppermint oil. It is supposed to not only curb the desire to have a snack, it is supposed to help you feel full faster. It is worth a try if you ask me!
5 – Use Peppermint Oil to Sooth Joints and Muscles
The older I get, the more aches and pains I get and I am always looking for a way to ease them. Most of the sources I found say to mix peppermint oil with a carrier oil and rub it into your aches and pains. Many of these sources also suggest mixing in other oils, such as lavender and rosemary. At the moment, all I have is peppermint oil so I will try that with the coconut oil.
6 – Use Peppermint Oil as a Pick-Me-Up
Need a little help waking up in the morning or re-energizing in the middle of the day? Rumor has it that peppermint oil can help you. You can take a sniff, rub a little on your temples (also the back of your neck or shoulders), put a drop on your tongue, or mix a little in your water (I might try it in my tea).
7 – Use Peppermint Oil to Freshen Your Breath
Now this use just makes sense. How many of us chew peppermint gum to freshen our breath? You can use peppermint oil to do the same. Put 4 or 5 drops in a glass of water and simple swish it around in your mouth. If you are in a hurry, try a drop of peppermint oil under your tongue and then drink a glass of water.
8 – Use Peppermint to Sooth Your Skin
If you suffer from eczema or psoriasis, try rubbing on a little peppermint oil mixed with lavender oil. This will also work for poison ivy and itchy bug bites. Using peppermint oil might also help acne. Mix a little in with your body lotion and you will enjoy a cooling sensation when you use it.
9 – Use Peppermint Oil on Your Head
Mix a little peppermint oil in with your shampoo to really wake up your skull in the morning! If you suffer from dandruff, it can also help with that (and maybe even lice).
10 – Use Peppermint Oil to Get Rid of Pests
If you have trouble with mice, spiders, or ants, put some peppermint oil on a cotton ball and place in the problem area. I also red that you can use peppermint oil on a cotton ball to remove a tick. You could also make your own bug spray by putting some water in a spray bottle and putting in several drops of peppermint oil. This could help keep ticks, mosquitoes, and other bugs away.
Before you use peppermint oil, on your skin, make sure you check to make sure you don't have a bad reaction. You might also want to check with your doctor — it can't hurt!
Disclosure: As noted above, this post contains affiliate links. See my disclosure policy for details.
Copyright: / 123RF Stock Photo