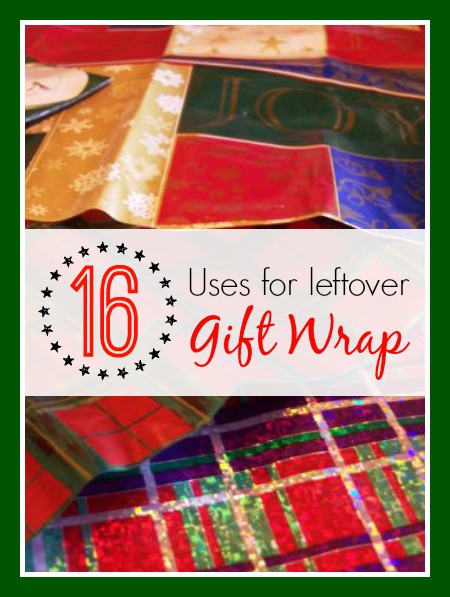 It happens every year. The gifts are unwrapped, everyone is enjoying their few found goods and you are left with a big pile of gift wrap that will probably end up in the garbage. Rather than tossing, here are some tips for using that leftover wrap.


1 – Save some small pieces and create bows or decorative elements for next year's gifts. Small pieces can be cut into gift tags as well.
2 – If you have gift wrap left over and still some gifts to ship, crumpled gift wrap is excellent for using in place of foam peanuts or bubble wrap when shipping.
3 – Use pictures on the gift wrap for kid's art projects and collages.
4 – If you like to scrapbook, gift wrap is excellent for finding backgrounds, cutouts and design elements for your pages.
5 – Buy some cardboard boxes with lids and use gift-wrap to decoupage them and create nice boxes for giving away other gifts in, especially baked goods.
6 – Cut into strips or use a paper shredder to create your own confetti for parties or filler for gift bags.
7 – If you are crafty with a sewing machine, you know that pattern paper can be expensive. Instead, use the thinner pieces of wrapping paper!
8 – Let your kids have a ball with giant sheets of paper to draw on. Markers work the best on the backside of the paper.
9 – Use crumpled up pieces to pack around your delicate holiday decorations such as ornaments or glass candlesticks.
10 – Create fun holiday picture frames by using it as a mat for the frame.
11 – If you have some that is un-crumpled, use the plain side to line drawers and cupboards.
12 – If you have kids in elementary school, they may enjoy using it to cover their books. Place it picture side up for fun holiday looks or plain side up so they can draw and doodle on it for their own design.
13 – It may sound obvious, but use it to wrap other gifts. If you use plain colored paper, there is no reason why it can't be re-used for birthdays, Father's day and so on. Even if you don't, most wrapping paper has a plain side that could be used and dressed up with colorful bows.
14 – Use scraps for making Christmas cards for next year with cutouts and strips.
15 – If you garden, save some wrapping paper to make into envelopes for seeds.
16 – Rather than buying expensive origami paper to practice with, use gift wrap. It is the perfect paper for it!