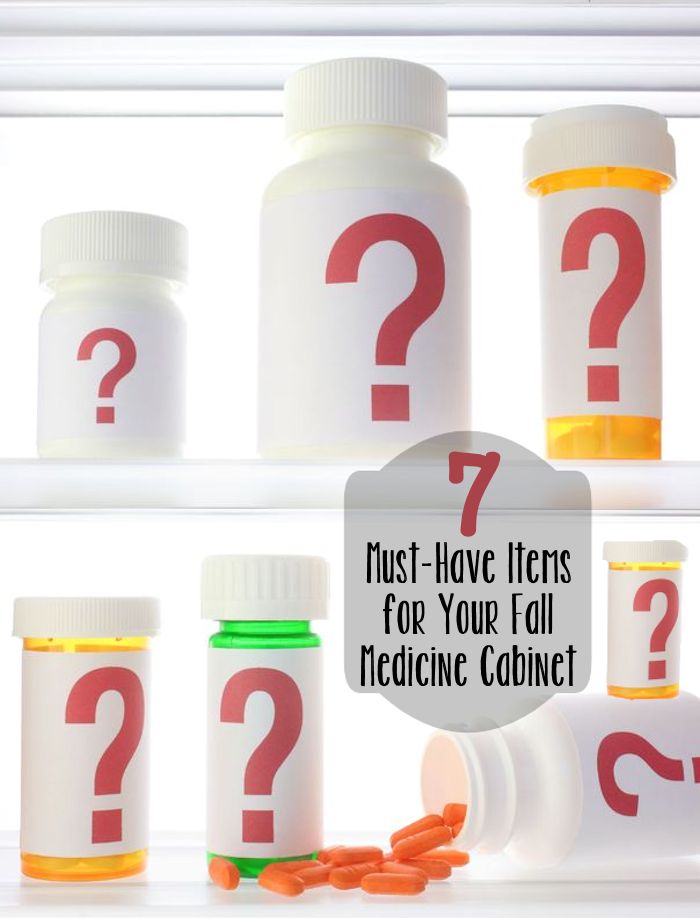 Fall is a beautiful season, with the warm vibrant colors of autumn busting out of the landscape. Unfortunately, with fall comes the ugly beginning of sniffles, colds and flu season as well as other health challenges.


You can get a jump on staying healthy by properly stocking your medicine cabinet. Today's medicine cabinets are very different to traditional medicine cabinets because there are so many options from traditional to natural and even very specific options for people with specific health issues such as asthma, heart and diabetes.
My 7 Must-Have Fall Medicine Cabinet Items
Allergy medications are vital in my household in the fall. With allergies becoming more and more prevalent you need to have on hand Benadryl and a twelve to twenty four hour allergy pill. Trust and believe, this one tip is vital to a properly stocked medicine cabinet. With these two items on hand you can tackle and even get ahead of the sniffles and sneezes.
Antacids are good to keep on hand for adults because autumn is full of reason to celebrate and sometimes over-indulge (such as tailgate parties and Thanksgiving) and nothing is worst than heartburn. There are several different forms available from liquid to tablets. If your heartburn is frequent or continues, please see a doctor.
Cough and cold medicine is a must have. It seems that the two go hand in hand no matter which comes first. I like to tackle the colds and coughs according to their aggression. By this I mean doubling up on your vitamin c and/or orange juice at the first sign of a sniffle. I also like to introduce tablets like Airborne. Airborne works GREAT. If your cold or cough is full blown, then it is time for an aggressive treatment with a four to six hour pill or liquid. There are different forms available on the market and most of them come in a non-drowsy form as well. There is also the tried and true Vicks VapoRub, which does help.
Anti-nausea medication is one of those things you don't want to be without because if the need arises, you don't want to have to worry about running out to get some. At this time of year, nausea can be caused by illness or diet, so be ready! I also keep ginger ale and peppermint handy as a natural alternative.
Acetaminophen and Ibuprofen are always in my medicine cabinet, no matter what time of year it is. They are great for sinus headaches caused by allergies and also to reduce fevers from colds or the flu. If you are doing a lot of yard work, they may also help any aches or pains that causes. Please read the labels before you use them though, ibuprofen should not be given to children and it can cause stomach problems in adults.
Muscle creams are also handy to have on hand at this time of year. Believe me, after a day of raking and yard work, nothing quite feels better than rubbing on some lotion that warms up as you rub it in.
Thermometers and medicine measuring cups should be kept handy! You may laugh at this, however, nothing is worse than looking for either when you need them so I recommend keeping a surplus on hand. Many over-the-counter medications come with them and I always save them even when all of the medication is gone. Sometimes it is nice to have a few, like if you have more than one child who needs a dose of medicine at the same time.
This list doesn't include other important things that you probably always keep on hand, like first-aid supplies and vitamins, but those items are used more frequently and always seem to be on hand no matter what time of year it is. The items I name on this list seem to be more specific to this time of year.
Of course, you list might be different than mine… What is your medicine cabinet stocked with?
Copyright: 3m3 / 123RF Stock Photo