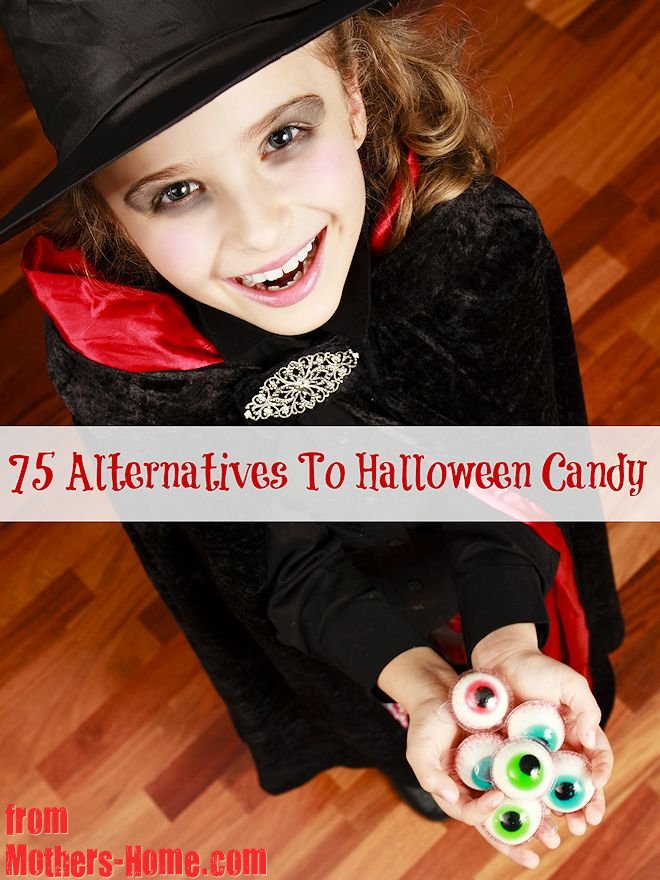 Halloween is right around the corner and there are many ways to cut down on the sweets this year. Can't think of any ideas? Consult this long list of great alternatives to Halloween candy. Sure kids love candy and they will be getting a ton of it for Halloween this year but they also love gooey, sticky and glowing items just as much! As a matter of fact these great alternatives to Halloween candy just may make you the hit of the block.


Childhood obesity is increasing more and more every year and, although eating a little Halloween candy is not the main cause of the problem, it is always great to give the kiddos a fun gift to keep them busy playing and having fun. Check out these great alternatives to Halloween candy and see how they go over in your neighborhood.
75 Alternatives to Halloween Candy
Koosh balls
Glow Sticks
Cheese crackers
Treats from your local fast food joint.
Decorated juice boxes
Toy bracelets
Happy meal toys
Raisins
Slime
Decorated water bottles
Mini sponges
Pretzels
Temporary tattoos
Hair bows
Mini card games
Mustaches
Trail mix
Popcorn
Toothbrushes
Decorated oranges (Draw a cute pumpkin face on them)
Fruit snacks
Paint brushes
Whoopie cushions
Gold fish
Stickers
Animal crackers
Halloween glasses
Rubber ducks
Spider rings
Fruit leathers
Activity books
Bathtub coloring tablets
Crayons
Granola bars
Popcorn balls
Wind up toys
Pencils
Slide puzzles
Play-Doh
Finger puppets
Bubbles
Comic books
Markers
Rubber stamps
Toy cars
Whistle
Plastic spiders
Coins
Mini telescopes
Spinning tops
Glowing balloons
Veggie chips
Yo-yo
Apples
Mini pads of paper
Peanuts
Glow bracelets
Vampire teeth
Squirt guns
Halloween themed toys
Bouncy balls
Jump rope
Rulers
Fake eyeballs
Cool straws
Fancy erasers
Mini books
Glow necklaces
Cereal bars
Wax lips
Sidewalk chalk
Hot chocolate
Jars of slime
Slinky
Frisbee
There are plenty of ways that you can adjust the amount of candy that your kids eat this Halloween without cutting out all the fun. Check out these great tips below and have fun this Halloween!
Use smaller bags when trick or treating
Limit the amount of houses that you visit
Fill your kids up with a good meal before leaving
Wait until you get home to eat the candy and log all the different kinds in a notebook
Allow a certain number of candy to be eaten per night for a one week period and then donate it to the troops
Have you ever given out alternatives to Halloween candy at your house??