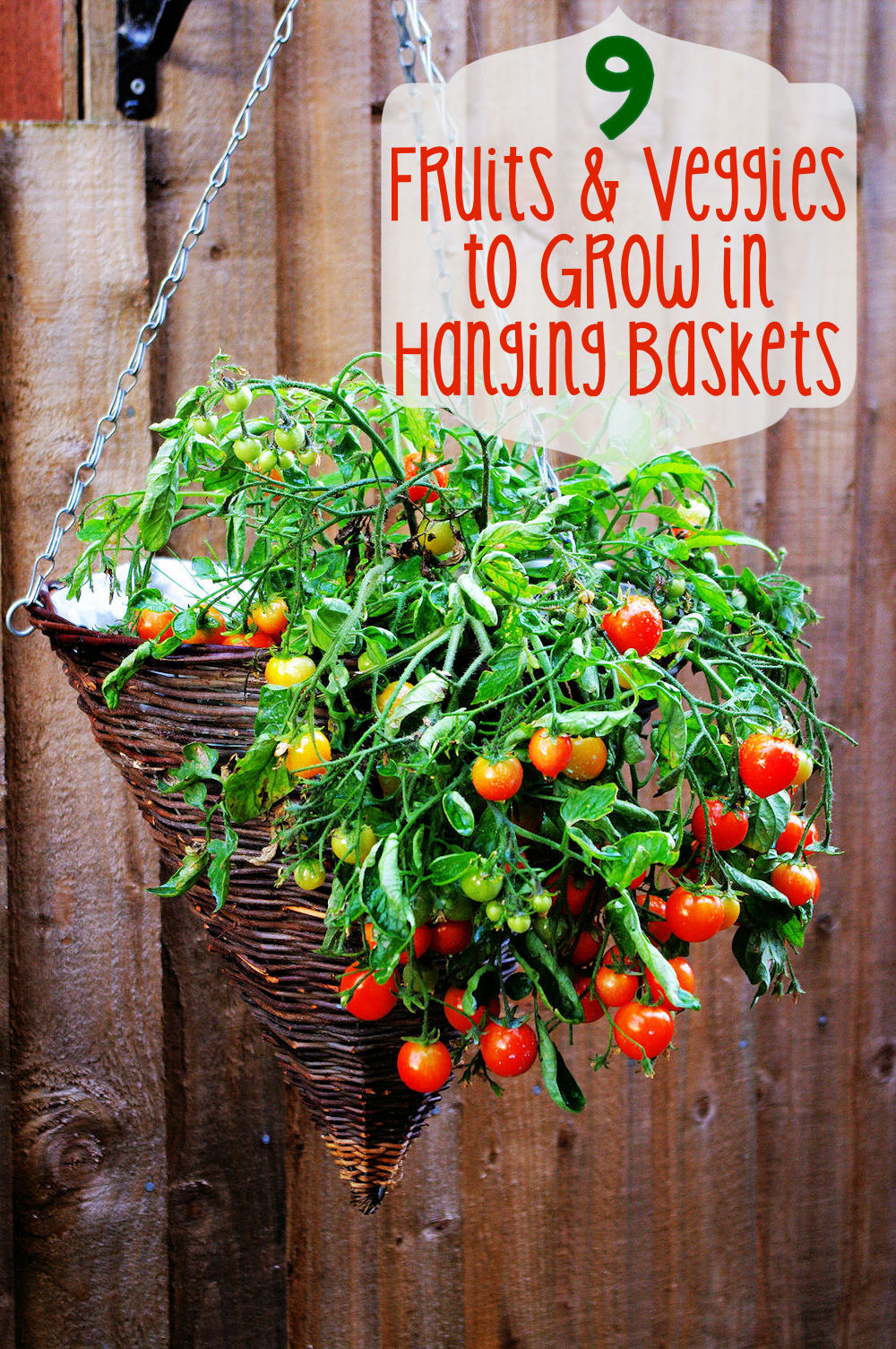 While some people might be asking how to hrow fruits and veggies in hanging baskets, others are probably asking why I would want to grown any kind of food in hanging baskets. Well, up until this year I had a huge garden space — unfortunately, we sold that house last year and are currently living in an apartment where all I have is a small patio.


While I could use pots that sit on the ground for growing my favorite fruits and veggies, it is a very small area and our bar-be-cue grill and chairs take up most of the space. We are on the first floor of the apartment building and the people who lived here previously were nice enough to already screw in hooks on the underside of our upstairs neighbor's balcony so I figured hanging baskets might be a great solution for me.
Before I started researching which plants would do well in hanging pots, I figured my options would be limited — Boy, was I wrong! I was surprised at how many veggies were do-able! Unfortunatly, there weren't as many options when it comes to fruit. While you can experiment with growing many different fruits and veggies in your hanging baskets, here are the ones that I am considering…
9 Fruits and Veggies to Grow in Hanging Baskets
Tomatoes
Spinach
Lettuce
Green Beans
Cucumbers
Cabbage
Peas
Peppers
Strawberries
What do you think of this list? I like the variety this list has to offer but I think that might be too much for my first attempt, so I will probably narrow it down to 4 or 5.
When choosing which fruits and veggies to plant in hanging baskets, you will want to try to choose bush or dwarf varieties when possible. While you don't want to overcrowd the pot when it comes to most of the plants I list above, you might want to consider planting two different kinds of veggies together. Try planting lettuce in the center of a basket and then plant peas around it, or how about planting spinach surrounded by green beans?
The main trick with trying to grow your food in hanging baskets is to keep them watered and fertilized. Not only will the baskets dry out faster than ground soil on a hot day, the veggies and fruit will deplete the soil's nutrients faster than is they were planted in the ground. You will also want to make sure sun loving plants get a sunny spot while more shade tolerant plants get what they want.
Have you ever tried growing food in hanging baskets? If so, share your stories, tips, and hints!
If my fruit and veggie planting goes well, perhaps I will had a basket or two of herbs? Perhaps some cilantro and chives?
Copyright: linco23 / 123RF Stock Photo