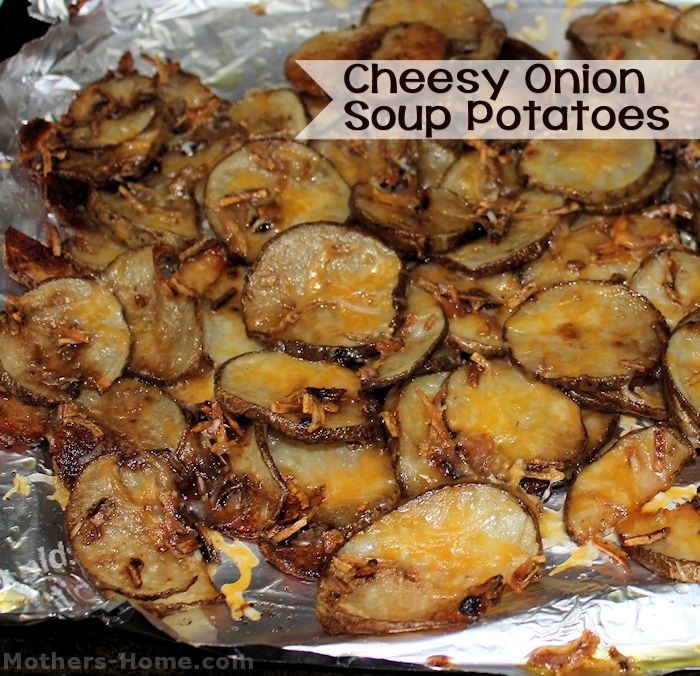 I love finding new recipes to try, especially when they are as easy as these onion soup mix potatoes.
I found them on Pinterest (minus the cheese) and couldn't wait to try them. To give credit where credit is due, this recipe was shared by Debbie on the Made from Pinterest blog. I do believe it is her original recipe — at least it looks to be!


Debbie guaranteed that "you will be asked for the recipe and I also guarantee that there won't be any left by the end of dinner!" After making this recipe myself, I couldn't agree more.
I won't share Debbie's recipe, that just wouldn't be right. If you want to make these potatoes, check out Debbie's Lipton Onion Potatoes recipe. I will, however, share how I tweaked this recipe. To be 100% honest though, I think everyone in my family preferred Debbie's recipe over mine. In my defense, I tried to healthy it up a little bit by substituting olive oil for the butter.
The first time I made these onion soup mix potatoes, I used 2 potatoes since they were just for my husband and I, but I think we could have eaten more! I washed the potatoes and then cut them into thin slices. I cut Debbie's measurements in half, when it came to the butter and Lipton Onion Soup Mix.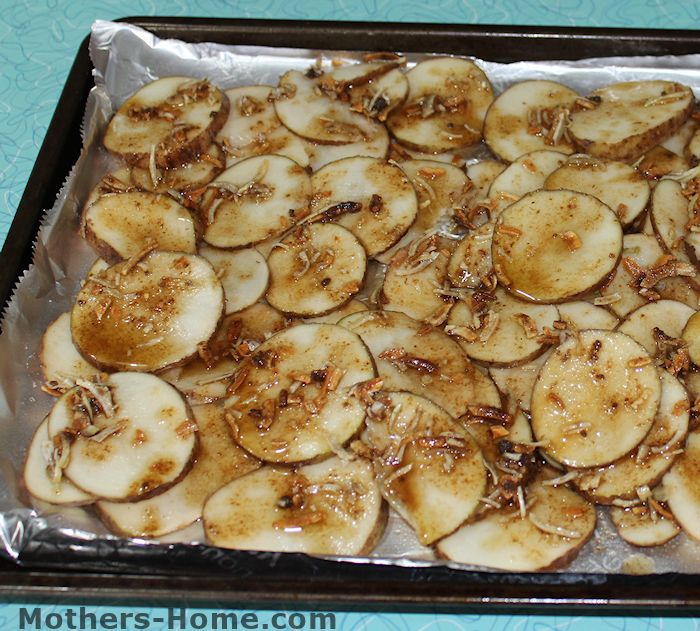 I layered the potatoes onto a well greased cookie sheet, topped them with the butter and soup mixture, and cooked them at 400 degrees, uncovered, for about 40 minutes. Debbie covered her potatoes, I decided to leave mine uncovered to they get a little crispy. Once mine were done, I sprinkled them with some cheese and placed them back in the oven for just a few minutes.
They were oh so good! I highly recommend trying them.
Obviously, what I described above wasn't my 'healthier' version of this recipe. For that one, I substituted Debbie's cup of butter with about a 1/2 cup of extra virgin olive oil. It was good, just not quite as good as the potatoes made with butter.
The only problem I had, with both versions of this recipe, is getting the butter (or oil) and soup mix evenly distributed. I found it was easier when I sprinkled it over the potatoes using a spoon. I tried to flip my potatoes half ways though and that didn't work very well! If you want to try to flip them, to get a more even crispiness, make sure you spray the pan with non-stick cooking spray.
I hope you get a chance to try this recipe. Make sure you come back here and let me know what you thought! You should also hop over to Debbie's blog post and tell her thank you!