One of my favorite things to do as Christmas nears is to break out the Christmas movies. Topping the list of my family's favorites are animated classics, so I was very happy to add these two movies to the must watch list.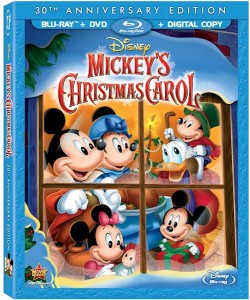 I really hate to call Mickey's Christmas Carol a classic since it came out when I was a child, but this year does mark the 30th anniversary of the first release of this movie so I suppose I must.

I am sure most people have watched this Dickens' tale in one form or another. I remember not really enjoying the Christmas Carol movie (I do believe it was the 1951 version that was the favorite in my childhood home) when I was young. As far as I was concerned, it should have been a Halloween movie because it scared me!
I do believe it was the Disney version that made me enjoy this story.  The familiar cartoon characters are what enticed me to sit down and watch this movie, and I have been hooked on it ever since. Now, with Mickey's Christmas Carol 30th Anniversary – Special Edition
(affiliate link) restored and available on Blu-Ray and Digital Copy, I am excited to pull my grand kids into this classic tale just as I was.

Speaking of watching Christmas cartoon with my grand kids, another we are going to enjoy this year is from one of their favorite bears – Winnie the Pooh!  As with Mickey's Christmas Carol, Disney is re-releasing Winnie the Pooh: A Very Merry Pooh Year
(affiliate link) (originally released in November 2002) on Blu-Ray and Digital Copy.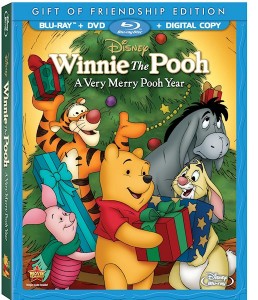 In this video, Pooh and all of his friends from the Hundred Acre Woods celebrate the holiday season together and make their own New Year resolutions.  When Rabbits considers leaving because of his growing annoyance with the behavior of Pooh (eating too much honey), Piglet (always afraid), Eyeore (always gloomy)and Tigger (bouncing all of the time), these characters make resolutions to change.  All of this leads to a touching realization about friendship for Rabbit and all.
This sweet Pooh holiday movie will certainly become one of our family's favorites. I think they will especially enjoy the extras on this Blu-Ray which includes Disney Intermission.  When you pause the movie, you will discover fun games and activities the entire family will enjoy.
You will also find some wonderful extras on the Mickey's Christmas Carol Blu-Ray.  During the Disney Intermissions in this movie, you can sing Christmas carols with Mickey and his friends.  There are also 5 animated shorts included (these bring the total run time of the disc to almost an hour because Mickey's Christmas Carol is actually only about 26 minutes long). These extra cartoons are a Mickey Mouse 2013 short called "Yodelberg", Donald Duck in "The Hockey Champ", Pluto's Christmas Tree, Goofy in "The Art of Skiing", and Donald Duck again in "Corn Chips".
These two titles will certainly be added to the list of our family favorites. How about yours?
Disclosure: A review copy of these DVDs were provided to me. No further compensation was given and all opinions are my own. As noted above, this post contains affiliate links. See my disclosure policy for details.