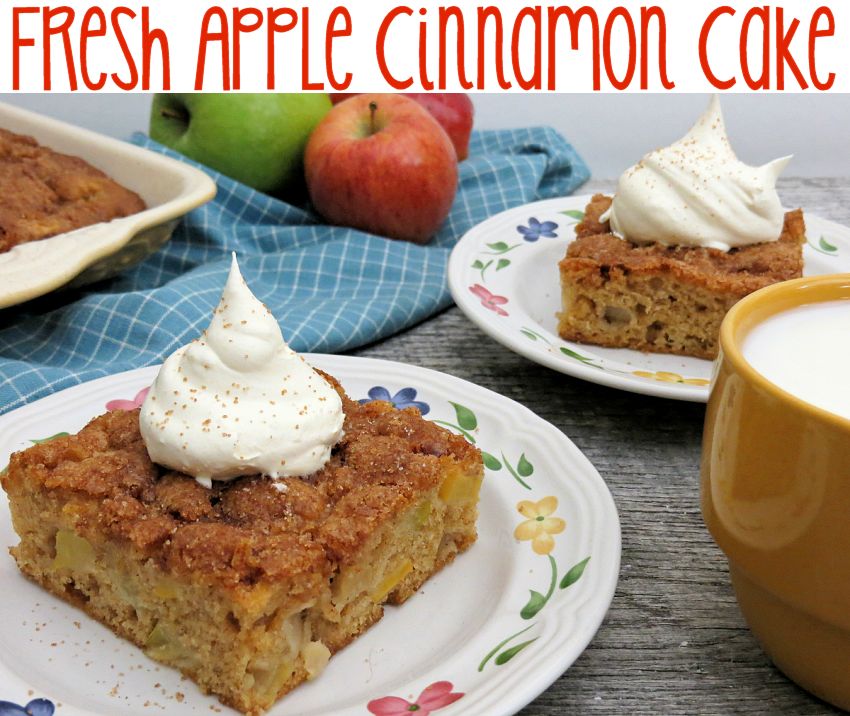 While apple recipes might seem to be more appropriate in autumn, this fresh apple cake can be enjoyed any time of the year. It can also be enjoyed any time of the day! It would make a great accompaniment to your morning coffee or make a sweet desserts topped with a scoop of ice cream.

Gather together these ingredients and get baking. One warning — make sure you have someone to share this cake with just so you aren't tempted to eat it all by yourself. As an added plus, this recipe uses coconut oil instead of regular vegetable oil or canola oil – if you aren't aware of all of the benefits of coconut oil, learn more about it here: 28 Science-Verified Health Benefits of Coconut Oil.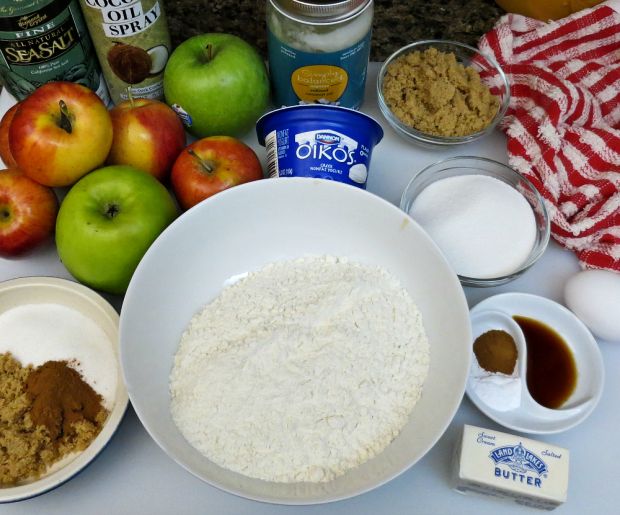 Ingredients Needed to Make the Apple Cinnamon Cake:
3 cups chopped apples, diced small (I used Gala and Granny Smith)
2 cups all-purpose flour
1/2 cup brown sugar
1/2 cup white sugar
1/2 cup coconut oil
1 egg
1 5.3-ounce cup plain Greek yogurt
1 teaspoon baking soda
1 teaspoon vanilla
1/2 teaspoon cinnamon
Pinch of salt
Ingredients Needed to Make the Topping:
2 tablespoons white sugar
3 tablespoons brown sugar
1 teaspoon cinnamon
1 tablespoon butter, melted
Instructions for Making the Apple Cinnamon Cake:
1. Preheat the oven to 350 degrees.
2. Spray a 9×13 baking pan with non-stock cooking spray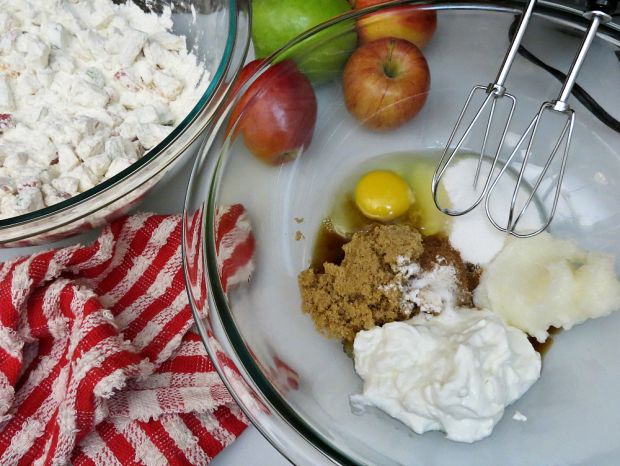 3. In a large bowl, combine the sugars, coconut oil, egg, yogurt, baking soda, vanilla, cinnamon and pinch of salt. Beat until smooth.
4. In a separate bowl, combine the flour and the apples. Toss to coat.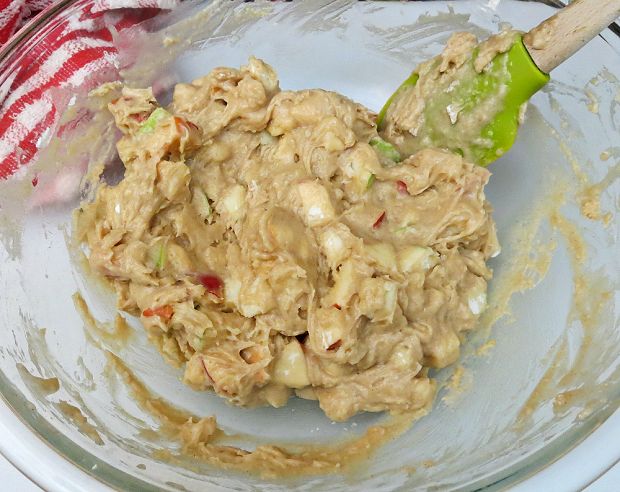 5. Add the wet ingredients to the dry and mix until just combined. Don't overmix.
6. Pour batter in the prepared pan. The batter is very thick. That's ok. Use your hand to press it down evenly, if necessary.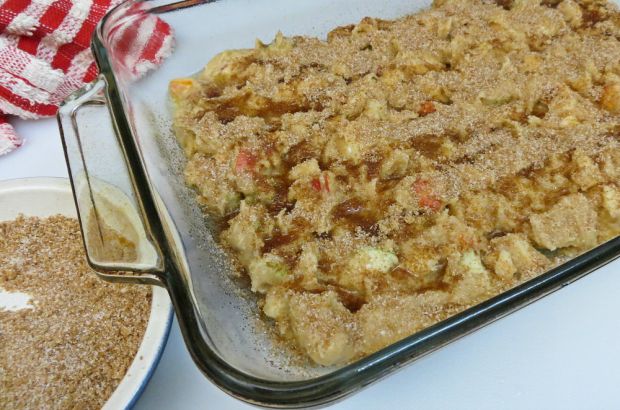 7. Drizzle the melted butter over the cake and sprinkle with the cinnamon sugar mixture.
8. Bake for 30 minutes or until golden brown and a toothpick inserted in the center comes out clean.
9. Allow to cool for 15 – 20 minutes before cutting.
10. Serve with whipped cream, powdered sugar or an extra sprinkling of cinnamon, if desired.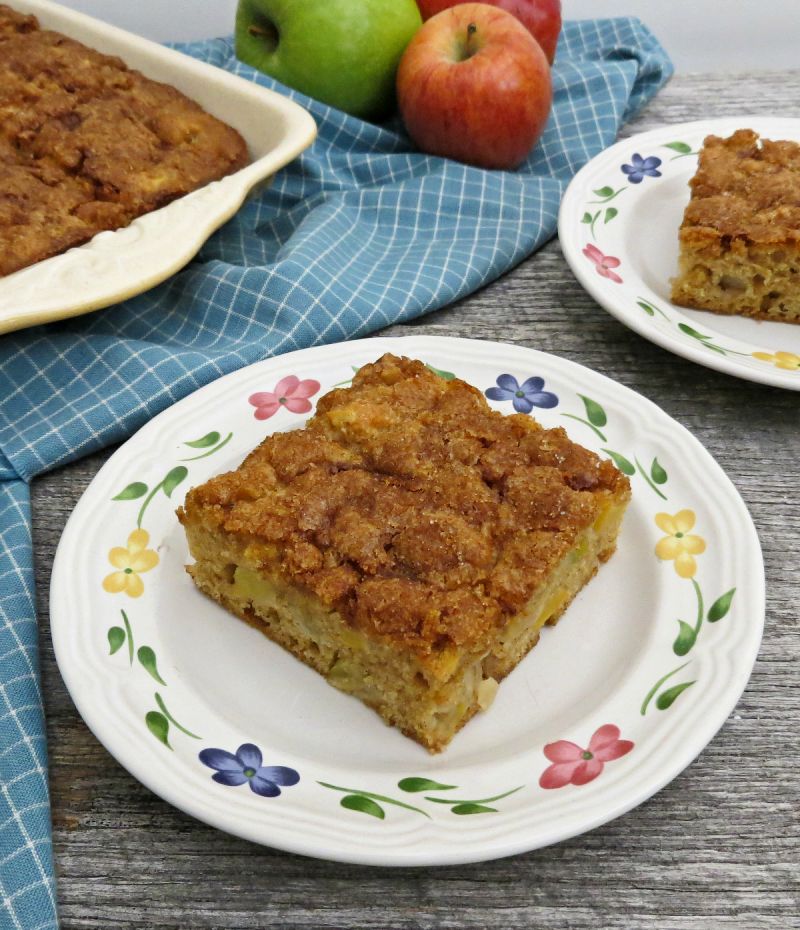 Notes: The sugar topping creates a crispy crust, so there is no frosting needed. As the cake sits, it will become even moister. If the topping gets soft, just pop it under the broiler for a minute or two and let cool. It'll crisp right back up.