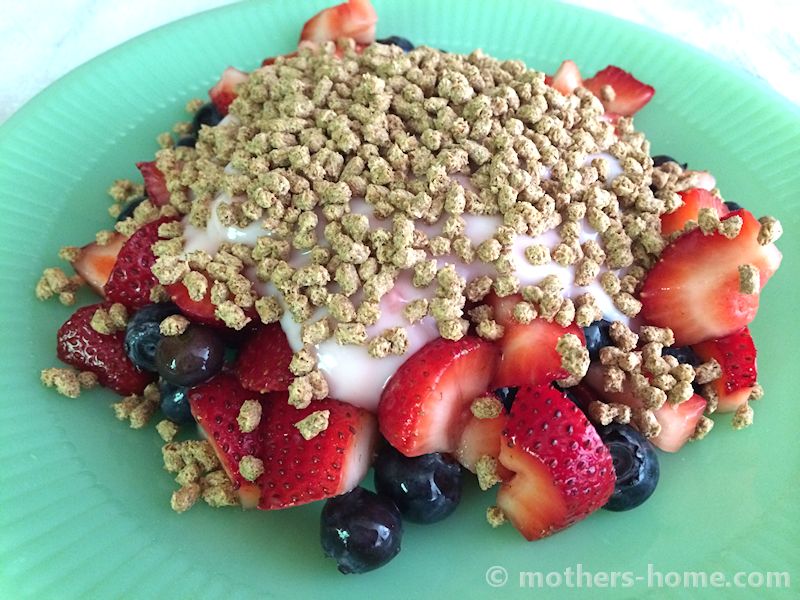 Although I initially didn't think this picture was blog-worthy, mainly because it isn't part of a fancy recipe, after I got done eating it I just couldn't resist sharing. It is so delicious and even healthy!


While I initially wanted to call it some sort of breakfast parfait, I hesitated because the presentation really isn't in the form of a traditional parfait not to mention the fact that this can be eaten at any time of day — but it is a layered treat that offers you three distinct textures and flavors. The best thing about this yogurt treat is that it is as simple to make as it looks. The most time consuming part is washing the fruit and cutting up the strawberries.
Here is all that you need: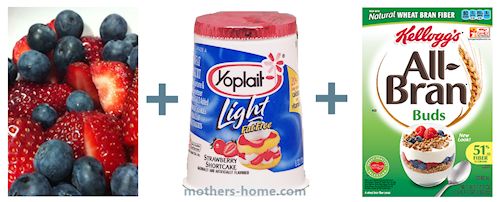 I started of pour spooning about 1 1/2 cups of strawberries and blueberries (about 3/4 of a cup of each) onto a plate. I topped that with one container of Yoplait Light Strawberry Shortcake yogurt. On top of the yogurt, I sprinkled about a 1/3 of a cup of Kellog's All-Bran Buds.
To me, this is a perfect mixture of sweet, creamy, and crunchy. Of course, you can use any flavor of yogurt you want, but I don't think I would stray too far from strawberry or blueberry unless you change up the kind of fruit used. When my raspberries are ready to be picked, I am definitely going to try this recipe with them.
Just in case you were wondering, I figured out that this breakfast has about 270 calories (100 calories for the berries, 90 calories for the yogurt, and 80 calories for the cereal). Pretty good considering how tasty and filling it is!
I hope you enjoy this as much as I did!