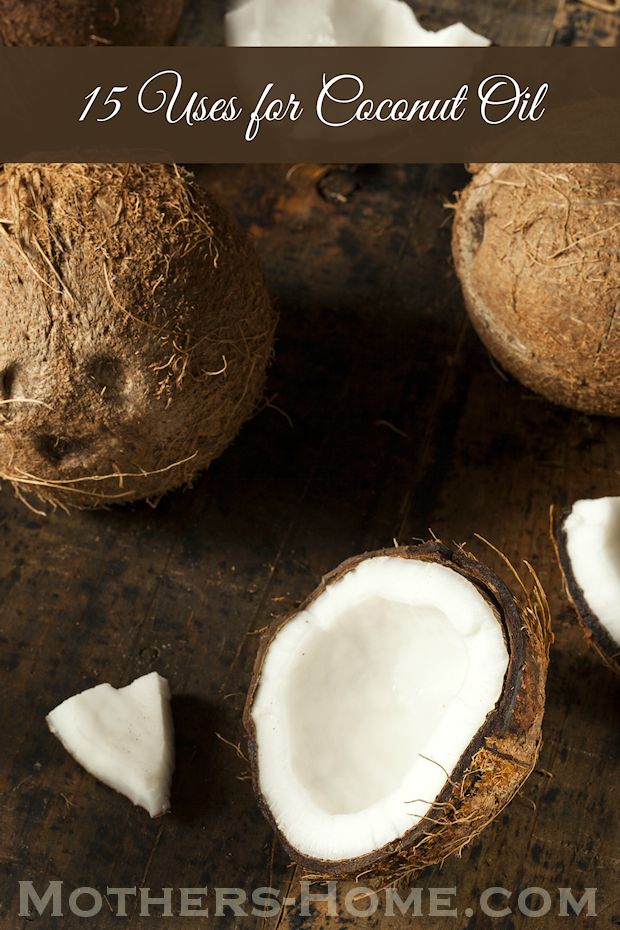 We have all heard about the wonderful benefits of coconut oil
(affiliate link) over the last few years. It has even been called a super food. It acts as an anti-bacterial, anti-fungal food that boosts the immune system and has also been known to boost brain function. I think we can all use that!


There are many other uses for coconut oil than just using it to cook with. Check out these other great uses below.
In Your Hair – Coconut oil has a lauric acid profile. When you apply other oils to your hair they actually sit on top of the hair follicles but coconut oil binds to the protein in your hair. This can help you hair retain much needed moisture and help strengthen you hair. Take 3-4 tablespoons of coconut oil and melt it in the microwave taking care that it is not too hot when applying it. Apply in sections to your hair root to tip and leave on for an hour or two. It will leave your hair looking healthy and shiny! For an added boost leave on your hair overnight. Wrap saran wrap around it took keep your pillows from getting greasy. When you are ready, simply wash your hair, rinse and wash again. Style as usual.
On Your Skin – This may seem kind of odd because coconut oil is in a solid form but it works very well to moisturize the skin. You can apply it as is or melt it a bit first. Apply in a thin layer and you will be surprised at how quickly it absorbs in leaving your skin silky smooth.
To Fight Fungus – Coconut oil has been used for treating athlete's foot and toenail fungus. Apply liberally nightly on the affected area covering with a plastic bag or saran wrap and leave in place for an hour. You should start noticing a difference after the first couple uses. For toenails apply 3-4 times daily to the affected toenail.
Psoriasis or Eczema Soother – Psoriasis and eczema sufferers have shown improvement when using coconut oil on the effected area twice daily. It does wonders to relieve the area and many have shown great improvement.
Immune Boosting – Blending a tablespoon or two with hot tea while fighting a cold or flu has been known to speed recovery and lesson the duration of the illness.
Season Your Cast Iron Skillet – You can easily season your cast iron skillet with coconut oil. Heat your oven to 325 F, while your oven is heating use your fingers or a dry cloth to spread a layer of coconut oil around the inside and outside of your skillet. Bake in oven for 90 minutes and your pan will be perfectly seasoned.
Make- up Remover – Coconut oil works great at removing make-up especially mascara which is awful to try to get off! Rub it all over your face and use a damp cloth to remove make-up, dirt and grime. Coconut oil has even been known to diminish acne.
Smoothie Additive – Add a tablespoon or two to your smoothie recipe for an added immune boost and for extra energy!
Diaper Cream – It works great at preventing diaper rash and keeping babies bum nice and soft. Rub a bit on at every diaper change or as needed.
Message Oil – Heat up a bit and use as is for a great message oil. Not only will the message feel great but your skin will be left soft and smooth!
Cradle Cap – Rub one teaspoon onto your little ones scalp daily to ward off cradle cap.
Treat Burns – Burns hurt like heck can leave your skin scarred. Run your burn under cool water immediately and apply coconut oil. Continue applying coconut oil a few times a day until healed. This can help relieve the pain, speed up the healing process and reduce scarring.
Body Scrub – Mix 1/4 cup sugar (white or brown) with 1/2 cup room temperature coconut oil. Scrub onto your body for a minute or two and rinse off.
Energy Boost – Mix 1 tablespoon coconut oil and a tablespoon of chia seeds for a natural all day energy boost.
Sunburn – After the initial heat is gone from the skin, coconut oil can be used to repair the damage and bring your skin back to a silky smooth.
How do you use coconut oil around your home?
Disclosure: As noted above, this post contains an affiliate link. See my disclosure policy for details.