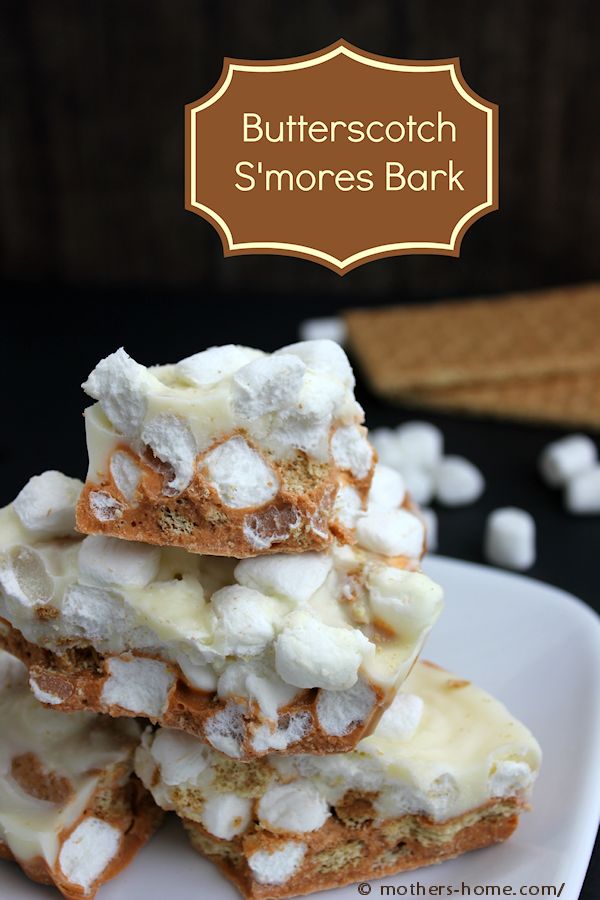 I am a total fan of butterscotch and just as much of a fan of s'mores so I thought why not try to make a butterscotch s'mores bark and see how the flavors blend. Well, I was pleasantly surprised at the results.


This bark is to die for and you should have seen me fighting off the family just so I could get a good picture of it! The crunchy goodness of graham crackers mixed with the gooey marshmallows and topped off with a perfect blend of butterscotch and white chocolate left my mouth wanting more.
Butterscotch S'mores Bark Recipe
Use this recipe to make some for your family and see if you get the same results!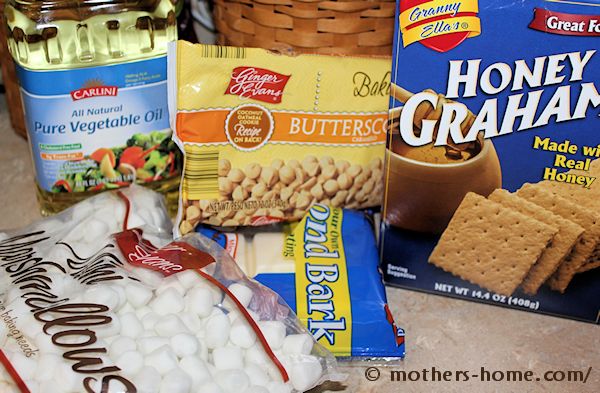 Ingredients:
12 oz. butterscotch chips
12 oz. white chocolate chips
1 package graham crackers (approx. 1 cup crushed)
1 cup marshmallows
4 Tbs. vegetable oil, divided in half
Directions:
Find a pan to make your bark in. I used a 9″ pie pan but an 8″ x 8″ or 9″ x 9″ baking pan would work just as well.
Set your pan aside and grab something to melt your chips in. A lot of people use the microwave to melt their chips but I ALWAYS burn them and I don't own a double boiler so I had to get creative…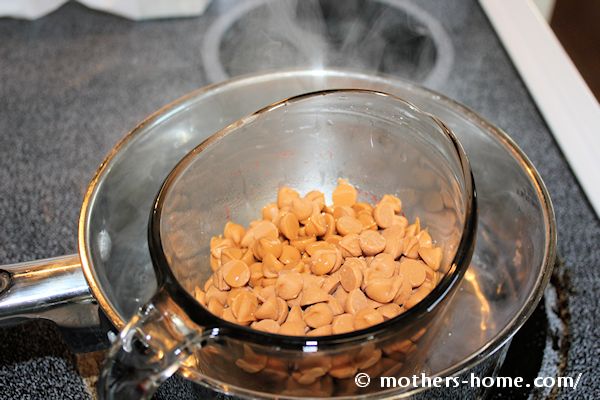 I take a medium-sized sauce pan and fill it half way with water. I then hang a glass measuring cup that is made to withstand heat over the edge of the pan.  As the water in the pan is heated, it melts the chips in the measuring cup so they are perfect every time.
Turn the burner under the sauce pan on medium heat and pour the 12 ounces of butterscotch chips into the measuring cup along with 2 tablespoons of the vegetable oil. Stir it well until the chips are completely melted and the oil is mixed in.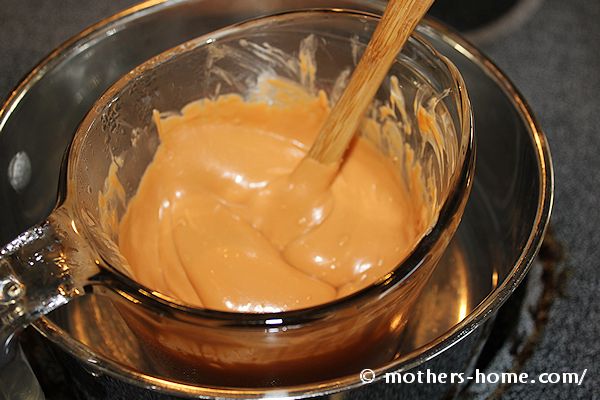 Poor the melted butterscotch chips into a medium bowl and add in half of the package of crushed graham crackers (it should measure about 1/2 a cup. When you crush the graham crackers you don't want to make fine crumbs — just crush them lightly leaving some slightly bigger pieces in there. (I crushed mine in a plastic zip-top baggie).
Once you add the graham crackers, it's time to add in half a cup of marshmallows. Carefully mix it all together. Pour your mixture into the pan and set in the refrigerator for 15 to 20 minutes until it hardens.
While the butterscotch mixture is in the fridge, go ahead and start melting your white chocolate chips. You will melt them the same way you did the butterscotch chips. Mix 12 ounces of white chocolate chips and the other 2 tablespoons of the vegetable oil.
When they are totally melted and mixed smooth, you will need to pour it into a medium mixing bowl. Add the other 1/2 package of crushed graham crackers and 1/2 cup of marshmallows. Pour the white chocolate mixture over the top of the butterscotch and again set it into the fridge to harden.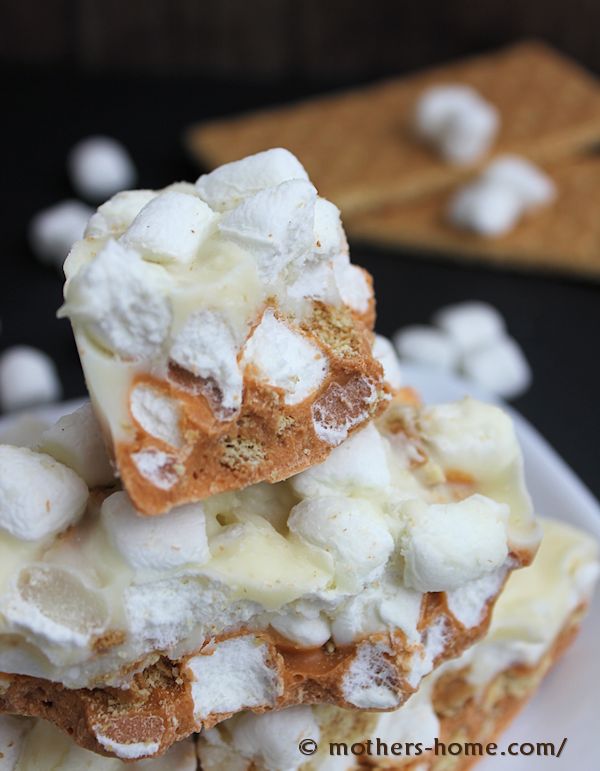 Once everything is nice and hard again, remove the Butterscotch S'mores Bark from the refrigerator and break into pieces. Enjoy!
You will need to keep these treats stored in the refrigerator. Don't worry about your graham crackers getting mushy because they stay nice and crisp and give you a great crunch when eating. Good luck with keeping your family, and yourself, from eating it all right away!