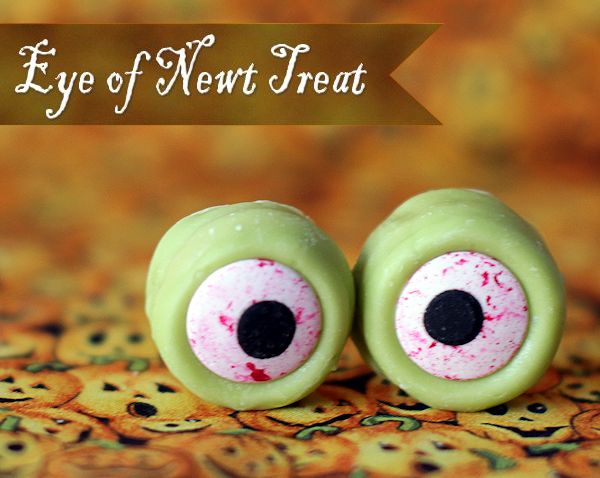 I have a tradition with some of my neighbor's kids when it comes to Halloween. My house is off the beaten track and they are usually the only people who come to my house to trick-or-treat so I enjoy doing something extra special for them.


One year I spent a little extra money and bought each a special – and gross – treat.  It was a liquid candy that came in a tube similar to toothpaste, and it was called something similar to snot. That treat made such an impression on those boys that anytime they saw me after that the youngest one would ask me "remember that time you gave me snot candy"…  He thought it was great!
Every since then, I try to find an extra gross treat for them each year. Sometimes this is a hard feat; so, this year, I thought perhaps I would try to make something this year. These eye ball treats, and the printable tag that I created, is what I came up with.
(Edited: when I originally posted this recipe, I made white eyes. Notice the eyes in the picture above are green? This is my latest batch and I think the green candy melts actually work better than the white, but you can decide for yourself!)
Ingredients Needed to Make This Treat:
Peanut Butter Ritz Bits
White or Green Candy Melts (or you can use 1 cup white chocolate chips melted with 1 Tbsp. shortening)
Candy to Make Pupil (see more details below)
You Will Also Need:
Microwave-Safe Bowl
Fork
Toothpicks
Wax Paper
Cookie Sheet
Get everything laid out before you melt the chocolate. Lay a piece of wax paper onto a cookie sheet. Open the package of crackers (I even poured some into a bowl).  Open your candy and pour it out so you can grab it easily.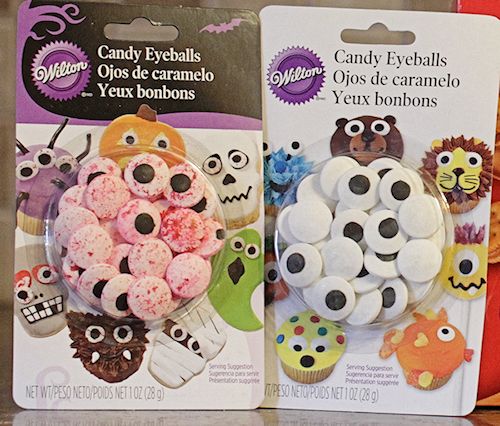 I experimented using two different kinds of candy for the pupils.  I tried white and bloodshot candy eyes made by Wilton.  I also tried making pupils using M&Ms and red food coloring. I like the way both turned out.
Pour the candy melts into a bowl.  I worked with only half a bag at a time just so I was sure the chocolate would stay thinner.  If you are using white chocolate chips and shorting, simply measure them out into a bowl.
Place the bowl in the microwave and heat it for one minute at 50% power.  Stir the chocolate well. You will want it to be smooth and creamy. If there are still chunks of chocolate (which there probably will be) place it back in the microwave and heat for 30 seconds. Continue stirring and microwaving until your chocolate is smooth.  Be careful to not overcook it or it may become lumpy.
Once the chocolate is melted, place the bowl next to your cookie sheet and you can start dipping. I initially tried to stab a toothpick into the peanut butter center of the crackers. After several of the crackers simply split apart, I tried another method…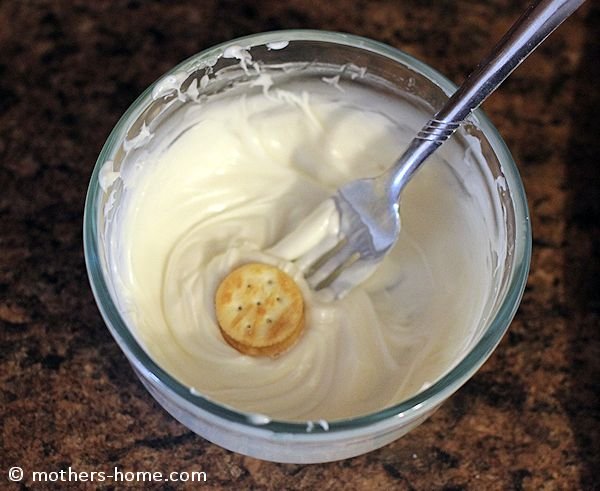 I simply dropped a cracker in the chocolate, flipped them over using a fork, and made sure every bit of the cracker is covered.  Once the cracker was coated, I carefully lifted it out with the fork. I set the cracker onto the wax paper, pushing it off the fork with a toothpick. You can also use the toothpick to smooth the chocolate if needed.

While the chocolate is still warm, place an eye candy on it. If you are using M&Ms and food coloring, first use a toothpick to draw the bloodshot lines by dipping it into the red food coloring. Once all of the lines are drawn press the M&M into the center of the chocolate covered cracker. I worked on one cracker at a time to make sure the pupil stuck well.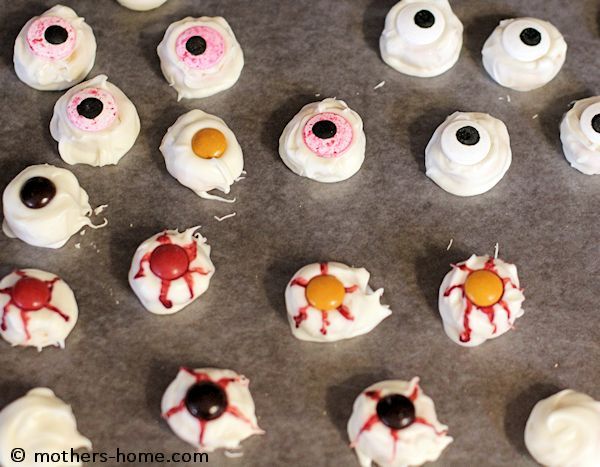 Let the eyeballs sit on the cookie sheet until the chocolate gets firm.  You can then remove them and store them in an air-tight container.
Of course, if you are planning to give these out as treats to special trick-or-treaters, you can package them in a plastic bag with my printable bag tag.
Download either the JPG or PDF version of the bag tag.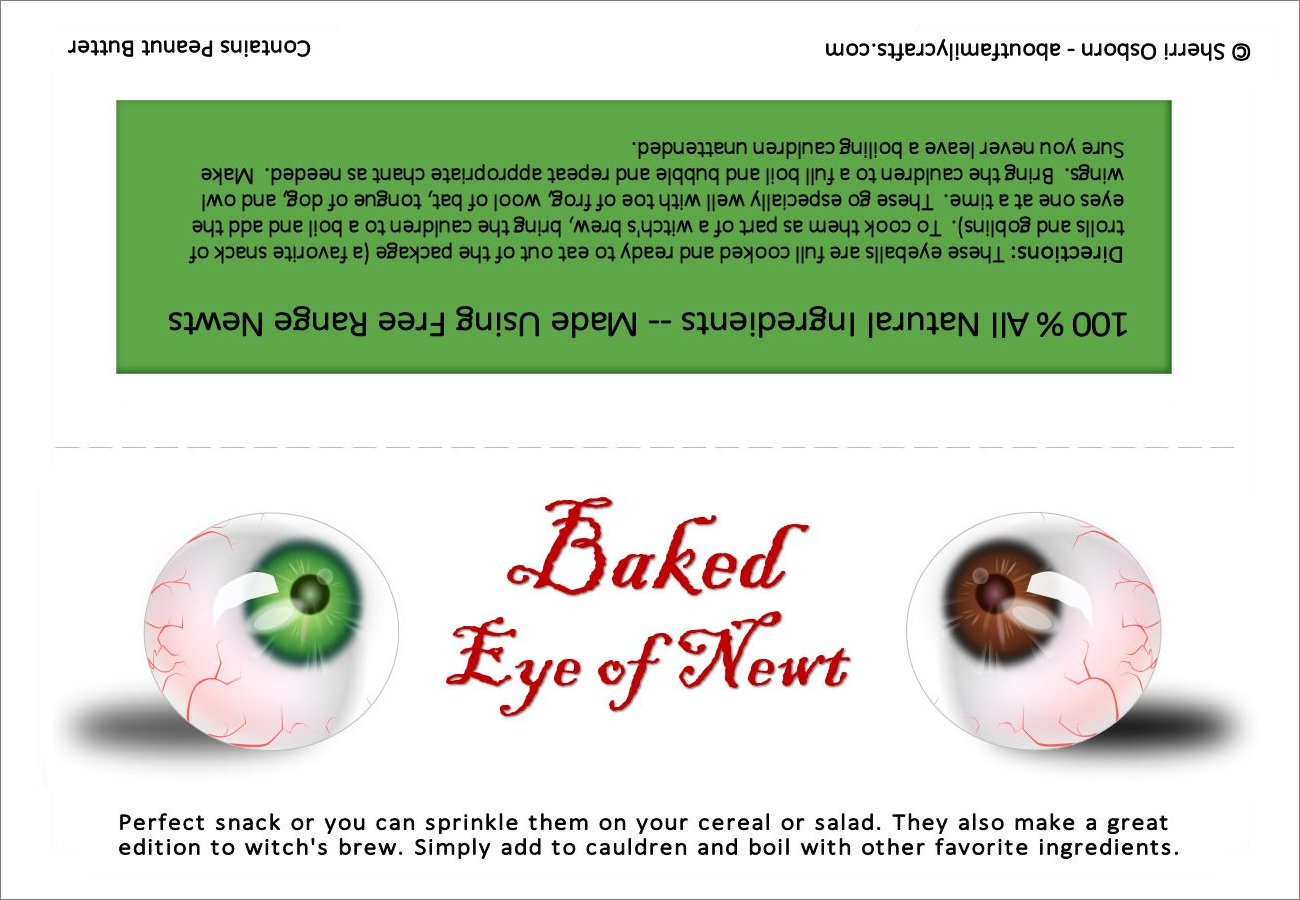 Download:
| PDF | JPG |
Print out the bag tag and cut it out on the colloid gray outline. It will be approximately 6 1/2-inches wide by 4 1/2-inches tall. This fits the width of a zip-top sandwich bags. Fold it in half along the gray dotted line.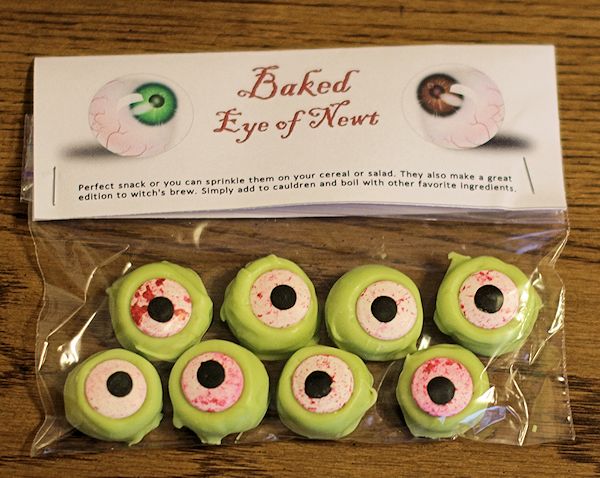 Place several eyeballs into a zip-top sandwich bag. Seal the top of the bag. Slip the top of the sandwich bag inside the folded bag tag. Use a stapler to attach the tag to the top of the bag.  Enjoy!