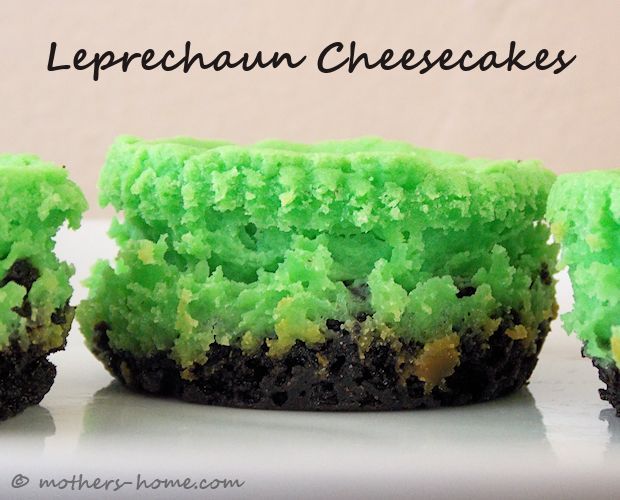 You might not be able to get your hands on a leprechaun's pot of gold, but you can certainly enjoy this treasure called leprechaun cheesecake! Impress all of your friends and family members by making and sharing these individual sized cheesecakes.


If you have never made cheesecake before, don't be intimidated. You won't believe how easy these little treasures are to make. Of course, you don't have to tell anyone else how easy it was!
Gather together these ingredients and get baking. I think you will be pleasantly surprised at how quickly these St. Patrick's Day treats come together.  This recipe should make you 12 mini cheesecakes.
Leprechaun Cheesecake Ingredients:
24 chocolate cookies, crushed
4 tbsp butter, melted
8 oz. package of cream cheese, softened
1/2 cup of plain yogurt
1/2 cup of sugar
2 tbsp of flour
2 eggs
1 tsp of vanilla extract
1 to 2 tsp of peppermint extract (optional)
Green food coloring
 Directions:
Start out by preheating your oven to 325 degrees.  Line muffin pan with paper or foil baking cups.
Place the cookies into a food processor and grind them into fine crumbles. If you don't have a food processor, you can place them in a baggie and use a rolling pin or even the bottom of a drinking glass to crush them. Pour the cookie crumbs into a medium sized bowl.  Add the melted butter and mix well.
Spoon the crumb mixture into the bottom of each paper baking cup.  Pack down the crumbs to make the crust. You will want to crumbs to fill each cup about 1/4 to 1/3 of the way.
Place the softened cream cheese in a bowl and add the yogurt.  Use an electric mixer to beat them together. Add the sugar and flour and mix until well blended.  Mix in one egg at a time. Finally, mix in the vanilla, peppermint extract (optional), and green food coloring on low (or by hand).
Divide the cream cheese mixture evenly between all of the muffin tins. Place the pan in the oven and bake for 20 minutes.
Remove the pan from the oven and let it cool for about 10 minutes. Carefully lift out each cheesecake, leaving them in the liner, and set them on a wire rack to cool completely. Once cool, your cheesecakes should be stored in the refrigerator.
Enjoy these mini leprechaun cheesecakes with your friends and family. You can top them with a bit of whipped cream and green sprinkles, or serve them as-is!