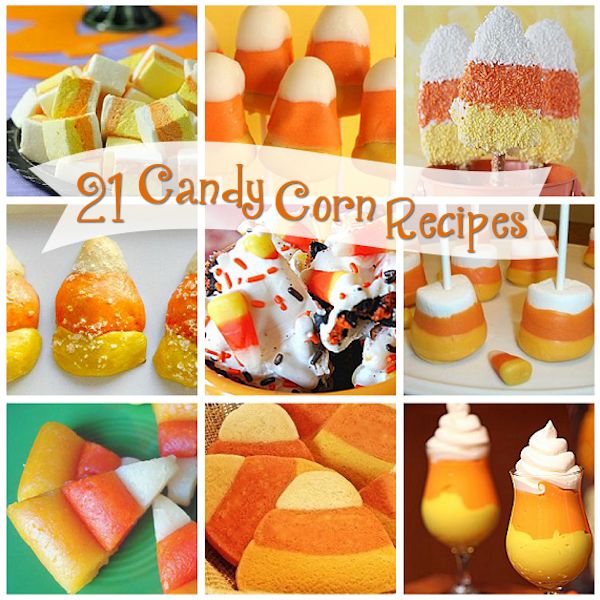 I love candy corn, but I know not everyone will share that sentiment. At least in the small town where I live, there is a very small window of opportunity for finding them at the local grocery store.
Whether you enjoy eating the real thing or not, you will hopefully enjoy one or more of these candy corn inspired recipes.


1 – Candy Corn Bugles @ Eighteen 25
Discover how easy it is to make Bugle brand chips look like candy corns.
2 – Candy Corn Cake in a Jar @ Babble
Build an orange, yellow, and white cake in a mason jar.
3 – Candy Corn Cake Pops @ About
Learn how to form cake pops into triangles and dip them in candy melts to make these fun treats.

4 – Candy Corn Cheesecake @ Wilton
It is easy to make this delicious looking and colorful cheesecake.
5 – Candy Corn Cones @ Hungry Happenings
Use these directions to decorate an ice cream cone to look like a candy corn.
6 – Candy Corn Cookie Bark @ Your Homebased Mom
This combination of candy corn, crushed Oreos, pretzels, and white chocolate sounds wonderful.

7 – Candy Corn Cookies @ Creative Destinations Guide
Discover how to make refrigerator cookies that resemble candy corn.
8 – Candy Corn Corn @ Lizzie Jane Baby
Whip up some orange, yellow, and white candy coated popcorn.
9 – Candy Corn Fruit Cups @ The Kitchen Life of a Navy Wife
This refreshing dessert is created using pineapple chunks, mandarin orange slices, and whipped cream.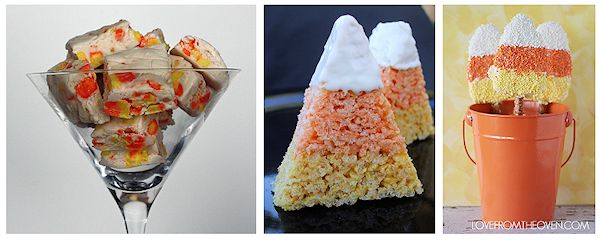 10 – Candy Corn Fudge @ Couldn't Be Parve
Candy corn makes a perfect filler for any fudge recipe as far as I am concerned.
11 – Candy Corn Krispies @ My Creative Stirrings
Follow this recipe and you can whip up orange and yellow Rice Krispie treats that are dipped in white chocolate.
12 – Candy Corn Krispie Treat Pretzel Pops @ Love From the Oven
Use a pre-made Rice Krispie bar, a pretzel rod, some melted chocolate, and colored sprinkles to make this sucker-style treat.

13 – Candy Corn Magic Bars @ Crazy for Crust
Along with candy corn, you will need graham crackers, white chocolate, peanut butter chips, coconut, and sweetened condensed milk to make these bars.
14 – Candy Corn Marshmallow Pops @ About a Mom
This is a sweet and simple recipe the entire family can make together.
15 – Candy Corn Parfait @ Craftster
Learn how to layer orange and yellow pudding, along with white whipped cream, to create this treat.

16 – Candy Corn Push Pops @ Confessions of a Cookbook Queen
I have a package of plastic push pops that I have been waiting to find a great recipe to try, and this recipe might just be it!
17 – Candy Corn Sugar Cookie Bars @ High Heels and Grills
This triple layer cookie is not only unique, it look amazing.
18 – Candy Corn Waffles @ Random Thoughts of a Supermom
You can add food coloring to your usual waffle mix to make this special breakfast.

19 – DIY Candy Corn Marshmallows @ Bird's Party Blog
Such a great recipe that will show you how to make tri-colored marshmallows.
20 – Homemade Candy Corn Pretzels @ Sugar Swings! Serve Some
Just because it has the words candy corn in the title doesn't mean it has to be a sweet treat.
21 – Homemade Candy Corn @ Serious Eats
Next time you are craving candy corn, use this recipe to make your own.
If you and your family try any of these wonderful recipes, please make sure you drop back by here and let us know how you like them.  As you visit these recipe pages, make sure you leave a comment and let the creators know how much you appreciate them sharing (and let them know that Mother's Home sent you.