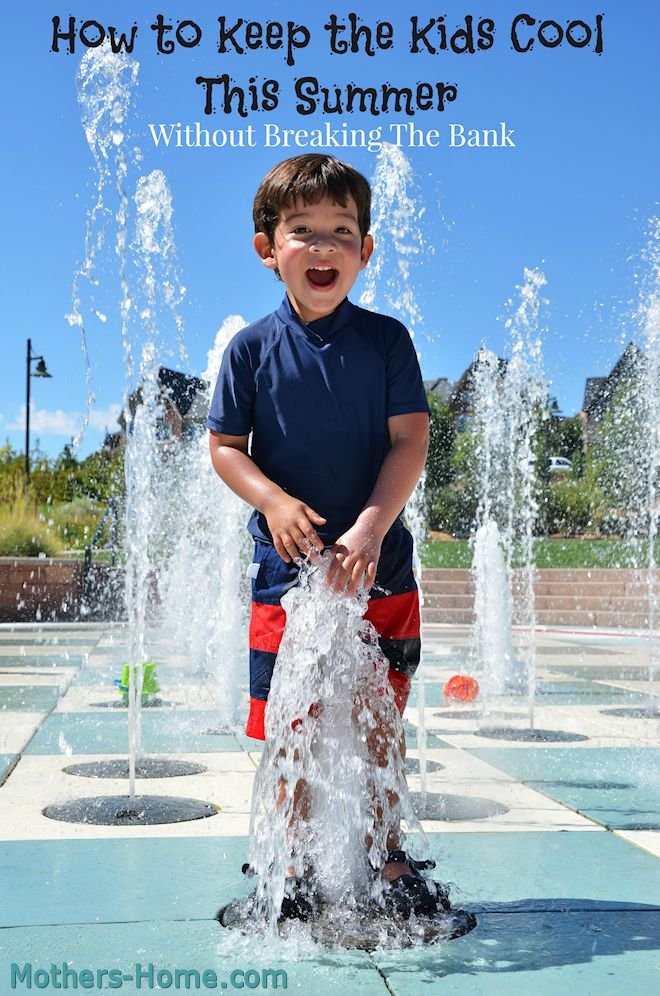 Summer is in full swing and, boy, is it getting hot out there! The kids are whining and the heat is rising so I figured it was time to pull out all the stops and find some ways to keep kids cool this summer without breaking the bank.

Most of these ideas are either free or will cost next to nothing. So grab up the kiddos and work on spending some time together and staying cool this summer! You can also keep these ideas in mind for those times when the kids start complaining about being bored.
Dig for Treasure – Grab a few bowls and fill them with water then add a few toys to each one of them and freeze overnight. Take them outside the next day and let you child dig for treasures! They can use spray bottles, sticks and other fun objects to try and chisel the treasure out of the ice.
Set up the sprinkler – Set up the sprinkler and let the kids run and play for the day. When I was a kid our favorite thing to do was play in the sprinkler and mom and dad didn't mind because the lawn needed to get watered anyway. If you're worried about water usage just turn it down half way. It doesn't need to be going full blast to have fun with it.
Have a dog washing party – Fill up the kiddie pool and have your kids wash the dog. If you don't have a dog you can print up some flyers and pass them out to your neighbors and friends and have a dog washing party. Who knows your kids might receive a few tips in the process.
Eat Popcicles – Popcicles are usually pretty cheap during the summer months or you could just go ahead and make your own. Try adding some fruit for a little extra nutrition!
Have a water balloon fight – Everyone loves a good water balloon fight. It may take a little work to get all those balloons filled up but it is well worth it when the fight gets underway. If your kids get a little cranky and don't really care to have balloons thrown at them try setting up an obstacle course and seeing if they can carry the balloon through without dropping it.  If you hate the mess the balloons make in your yard hand out some plastic cups and see who can pick up the most broken balloons. The winner can choose the snack when they are done.
Paint the fence – Grab a few buckets and paint brushes and let the kids paint the fence using water. When you brush the water on the fence it actually looks like its being painted. By the time your child finishes the water will be dried and they can start all over again.
Wash the car – Have the whole family throw on their swimming suits and have an old fashioned car washing party. Don't forget to accidentally spray each other to aid in keeping cool.
Paint with ice cubes – Add a little paint to the bottom of an ice cube tray then fill the rest of the way with water and mix well. Cover the ice cube tray with aluminum foil and poke craft sticks into each hold and freeze overnight. The kids will have a ball the next day painting with the cold ice.
Slip and slide – A good old slip and slide is always a great way to stay cool and keep your children active. If you don't have a slip and slide check dad's garage and see if you can find a giant tarp or plastic sheeting to use instead.
Go wading – Head to a local pond or lake and take off your shoes and do a little wading. Take some old bread with you to feel the ducks if you have any on hand.
Find a splash pad – Search your area for a splash pad. These are often found at city parks and are a great place to cool off for the kiddos and yourself and are usually free of charge. Pack a lunch and make it a family outing day!
Find a cool place to hang out – There are plenty of free cool places that you and your children can find to hang out at for a few hours. The local library and the mall are always available for a quick cool getaway.
It is very important to take safety measures in the summertime to keep your children well hydrated. Always apply sunscreen, drink plenty of water and take many breaks when the heat is high. I hope these fun ideas will keep your kids cool this summer without breaking the bank!