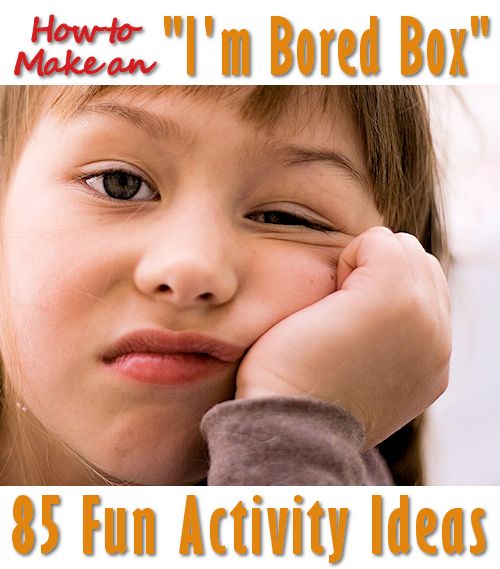 While most kids look forward to school being out for the summer (or whenever their extended break may fall), most parents and care providers know that it usually doesn't take them very long to start complaining that they are bored. What do you do during these times?  How about making an "I'm Bored Box".


To do this, find a small shoe box or something similar and have them decorate it. You just need one box no matter how many kids you have or care for. Come up with a list of fun activities, some should be quick and easy activities and some can take more time.  You can use my list of ideas as inspiration to make your own, or you can print this page, cut out all of the activities, fold them, and put them in the box. Make sure you ask the kids for suggestions also.
Your "I'm Bored Box" is now ready. Put it up, out of the way, and anytime the kids start complaining about being bored, have them cover their eyes and pull an idea out of the box!
Go to the library (some may even have a summer reading program).
Have the children write a list of things they want to do this summer.
Squeeze fresh lemons or oranges to make juice.
Help the children to start a collection and make a collection box by decorating a shoe box.
Go on a field trip to a farm.
Look through the newspaper for interesting words and make a crossword puzzle using them.
Visit the grocery store and let the children use a calculator to keep track of the spending.
Visit the grocery store and let the children help you pick the best values.
Make a reading chart the kids can hang up and use to keep track of all the books they read.
Give the children water and a paint brush and let them paint the sidewalk.
Give every letter of the alphabet a monetary value like A=1 cent, B=2 cents… Let the kids find words worth the most money.
Press a flower between paper towels and heavy books.
Plant a garden!
Have a taste test, experiment with new foods.
Create an outdoor obstacle course.
Create an indoor obstacle course.
Try to find books or online information about the place where you live and have them find interesting facts.
Have the children make math flashcards.
Cut out articles from a newspaper. Have the children create their own Madlibs by removing words.
Go on a field trip to a zoo.
Lay in the yard and look at the clouds to find interesting shapes.
Have children write a pass-along story.
Have children draw a pass-along picture.
Find a how-to book and try to teach the children how-to do whatever the book is about. Better yet, have them create their own how-to book!
Have the children try to think of adventures they would like to go on and write about them or discuss them.
Visit an airport and watch the planes. Try to guess where they are going.
Have the children make a list of words that describe something, and then have everyone try to guess what they were describing.
Make a collage.
Have the children put on a play or talent show.
Have the children create an art exhibit.
Have the children put on a carnival.
Take a walk and then have the children make a map of where you went.
Take a penny walk. Stop at every corner and flip a penny. If it is heads, turn left. If it is tails, turn right.
Have a backwards day. For example, wear clothes backwards, eat lunch foods for breakfast and breakfast foods for lunch.
Plan, prepare, and go on a picnic.
Go somewhere and feed the ducks.
Give the children a word, such as cold, and have them make a list of other words that mean the same thing.
Go on a field trip to a local TV or radio station.
Have the children make up their own board games.
Have the children make lists of things, such as zoo animals, forms of transportation, etc. Have the children put them in alphabetical order.
Have the children plan a trip to outer space. Have them tell what it would be like, what they would bring, and so on.
Make a treasure map, and have the children go on a treasure hunt.
Give the children a big word, such as watermelon, and have them see how many smaller words they can come up with.
Give the children a bunch of scrap craft supplies and piece of wood, and have them build a boat.
Bake cookies.
Make a picture by gluing different shaped pasta onto a piece of paper.
Create your own olympic games and medals.
Have the children cut out words from a magazine or newspaper and then glue them on a paper to write a "telegram" to someone.
Make a chart or paper chain to count down how many days left until school starts. Start with many links and tear one off each day.
Make a summer memories paper chain. For every day of the summer, write down something you did and then add it to the chain. See how long your chain is once school starts.
Have the children write letters to family members or friends that are far away.
Make maps of different places, either real places or places they make up.
Take a walk and have the children look for geometric shapes.
Read a book about an exciting place to visit. Have the children create postcards from that place.
Have the children make-up names for new foods and drinks.
Have the children create their own comic strips.
Have the children create their own puzzles.
Make balloon sculptures.
Play charades.
Check out a book or look up a web site about sign language and learn some.
Have each child keep a daily journal.
Take a walk and collect small rocks or twigs, have the children paint them.
Have the children write their own jokes.
Make kites and go fly them.
Tell the children to draw you a picture of something, but have them draw it with their eyes closed.
Play a game of tag or hide and seek.
Play a game of twenty questions or who am I.
Take a walk through the neighborhood and pick up litter.
Set up a lemonade stand, and donate the money to charity.
Make and blow bubbles.
Play some jump rope games or hopscotch.
Make and use sidewalk chalk.
Get some books about poetry from the library and have the children write some poems.
Check out a book about magic tricks and put on a magic show.
Make puppets and put on a puppet show.
Find some pen pals and write or email back and forth.
Make a scrapbook.
Make some clay sculptures.
Make a stuffed animal zoo.
Go on a field trip to a fire station.
Play in the sprinkler.
Find places to volunteer in the community (community gardens, nursing homes).
Find a few books about birds and do a little birdwatching.
Go fishing!
Play water balloon toss.
Of course, you will have to subtract from this list depending on what you have available and where you live; but, you can also add to it too. I hope this list is helpful, and makes your summer a little more bearable! Can you think of anything else to add to it?