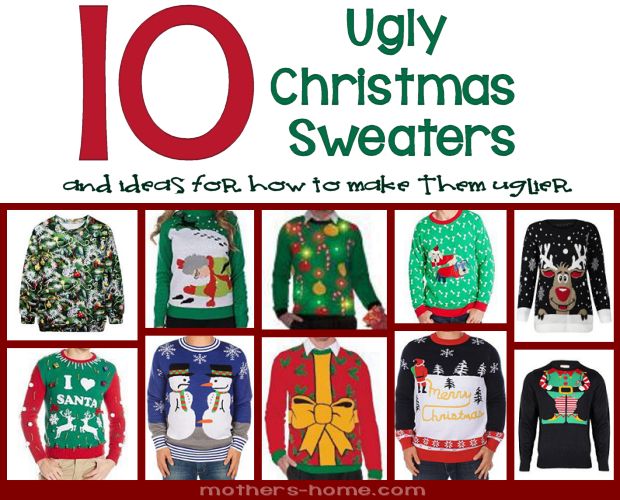 Are you planning an Ugly Sweater party or will you be attending one? Start your quest for the ugliest sweater by checking out this list! You can get one of these and then take it a step further by personalizing it. If you don't want to buy a new sweater, check out local discount or second hand shops. If you can't find a sweater that you think is ugly enough, you can easily add some great ugly details!


There are many ways you can add your own touches to an ugly Christmas sweater without having to know how to knit or sew! Considering it will only be worn for a limited time, you can simply glue on any extra embellishments or use fabric paint to doodle or write a special message.
My son won an ugly sweater contest a few years ago by adding some personal touches to an ugly, store-bought Christmas sweater. We decorated the sweater with some gaudy garland and jingle bells, but won it for him was what we did to the back of the sweater… The back was a solid red color and we used fabric paint to write this joke — "What is the difference between Santa and Tiger Woods? Santa only has 3 hos!" (Remember this was a few years ago when Tiger's adulterous behavior was big news.) I wish I had taken a picture of it because it is too late now because someone actually bought it at a garage sale we held!
Here are some I found online that are prime for personalizing!
The Ugly Christmas Sweater
(affiliate link)
This is a great sweater to start with, especially if you don't have a crafts cupboard at home. Not only do you get the ugly sweater (choose from 4 designs), you also get a variety of items to make your sweater uglier.
All Wrapped Up Ugly Christmas Sweater
(affiliate link)
This sweater caught my eye because. not only is it ugly, it isn't too busy so you can really go crazy on the extra embellishments. You can add garland, tinseled pom-poms, and even Christmas lights!
Rudolph Reindeer
(affiliate link)
Again, by itself this reindeer sweater might actually look kind of cute, but there are plenty of options for details. You can wrap rudolph's antlers with lights or garland, add glitter or sequins to the snowflakes, or make the snowballs pop by using pom-poms.
Tis The Season Light-Up Ugly Christmas Sweater
(affiliate link)
This sweater alreadyv has the lights in place. I suggest raiding the Christmas aisle of your local dollar store to find some great items to add even more sparkle.
Frosty the Nose Thief Sweater
(affiliate link)
Okay, so perhaps this sweater doesn't need much embellishment… It is hilarious on it's own but I am sure you could find some way tp dress it up.
Yellow Snow Sweater
(affiliate link)
Another great option for an adult Ugly Sweater party. This sweater can also stand alone, but there is definately plenty of room to add your own touches. What else would you add?
Grandma Got Run Over By A Reindeer Sweater
(affiliate link)
As a grandma, I can definately see the humor in this ugly Christmas sweater… and I can also see not only adding extra embellishments to the sweater, but also adding some dripping blood to parts of your body?
Dachshunds Ugly Christmas Sweater
(affiliate link)
This one is great for dog lovers, and it also has plenty of room for adding your own obnoxious embellishments.
Elf Body Christmas Sweater
(affiliate link)
This sweater not only gives you an opportunity to dress it up, it gives you the opportunity to dress yourself up (with make-up and an elf hat) to finish the look.
Very Busy Christmas Sweater
(affiliate link)
This is the opposite of the other sweater designs I shared. This one has a lot going on (but don't let that scare you away from adding your own finishing touches) and there are several other busy designs you can choose from.
So what do you think of this collection? Will you be going to an ugly Christmas sweater party this year?
Disclosure: As noted above, this post contains affiliate links. See my disclosure policy for details.