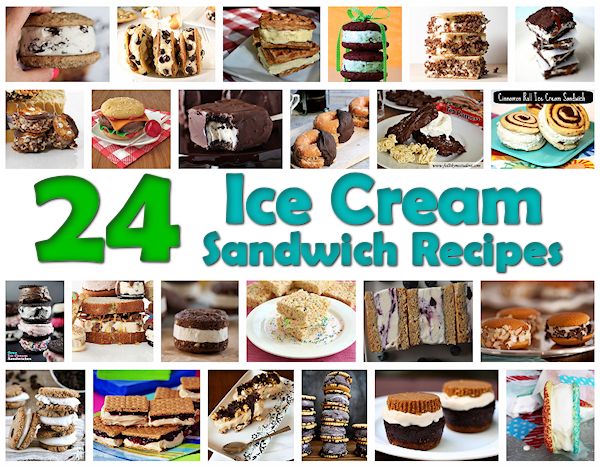 I almost missed it! July is National Ice Cream month and things have been so busy around my house that I almost missed it. Whew, that was close!
One of my favorite ice cream treats is an ice cream sandwich. I like them in all shapes, flavors, and sizes. I have only ever tried store bought (or restaurant made) ice cream sandwiches. I thought in honor of National Ice Cream Month perhaps I would try to make my own ice cream sandwich. Here are some fun and unique ones I have found around the Web.



Brown Sugar Bacon Ice Cream Sandwich Recipe at I am a Food Blog
Brownie and Salted Caramel Ice Cream Sandwiches at Yummy Mummy Kitchen
Caramel-Pecan Ice Cream Sandwiches Recipe at Taste of Home


Cheeseburger Ice Cream Sandwiches at Rock UR Party
Chocolate Covered Brownie Ice Cream Sandwich at Good Life Eats
Chocolate Dipped Coffee Ice Cream Glazed Doughnut Sandwiches at Taste Spotting


Chocolate Top Ramen Ice Cream Sandwiches at Full Thyme Student
Cinnamon Roll Ice Cream Sandwich  at Babble
Easy Oreo Ice Cream Sandwiches at Bakerella


Elvis Ice Cream Sandwich Recipe at taste of Home
Gorilla Ice Cream Sandwiches at Cooking Channel
Grasshopper Ice Cream Sandwich Recipe at Food Republic


Ice Cream Rice Crispy Treat Sandwiches at Makes and Takes
Lemon Blueberry Ice Cream Sandwiches at Shutterbean
Mini Ice Cream Sandwiches at The Food Network


Mini Oatmeal Raisin Ice Cream Sandwiches at Daily BItes
PB and J Ice Cream Sandwiches at Delish
Popcorn and Caramel Ice Cream Sandwiches at Spicy Ice Cream


Ritz Cracker Ice Cream Sandwiches at Joy the Baker
S'mores Cupcake Ice Cream Sandwiches at 52 Kitchen Adventures
Snickerdoodle Ice Cream Sandwiches at Foodtastic Moms


Tiramisu Ice Cream Sandwich at What's Gaby Cooking
Toasted Marshmallow Ice Cream Cookie Sandwiches at Chocolate Moosey
Toasted Waffle Ice Cream Sandwich at Cooking Panda
So many fun and unique ice cream sandwich recipes. Which one sounds the most interesting to you? I am certainly not sure which one I want to try first! Perhaps  I will go see if I have some Ramen noodles in my cupboard.