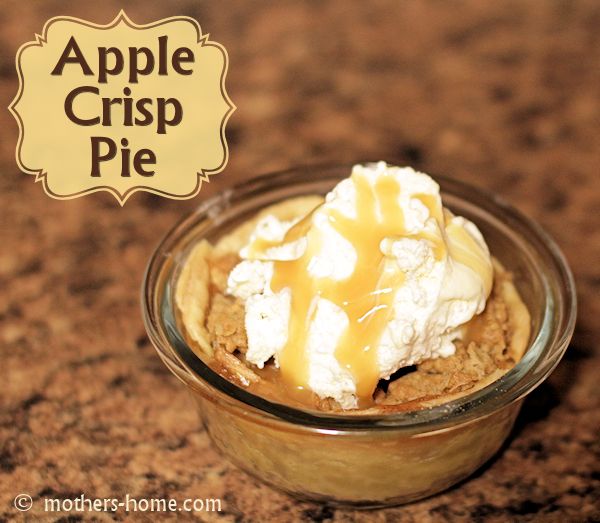 One thing I love about autumn is picking apples and then using them to make one of my family's favorite desserts – apple crisp pie!
I came up with this recipe for a few different reasons. First of all, the thought of making a double crust pie intimidates me. Yup, I am a kitchen wimp sometimes…  Also, while I love the taste and texture of apple crisps, I love the flaky crust of an apple pie just a hair more.


With this recipe, I have combined the two with great success. I say that mainly because whenever I make one of these pies, it is gone before it even gets a chance to cool properly.
How to Make the Pie Crust
As I mentioned before, I am a wimp in the kitchen sometimes. When it comes to the crust for this pie, I buy the crust pre-made. I figure why sweat it when there are perfectly fine alternatives either in the freezer case or the refrigerator section of the grocery store.
If you want to make a regular pie, simply buy a frozen, deep dish pie crust.  These crusts usually come in pairs so what I do is make a double batch of the apple pie filling, fill each crust, and then freeze one to use another day.
My new favorite way of making this apple pie is to make individual sized pies, like the one in the picture above.  For these, I buy refrigerated pie crusts that are already rolled flat.  These usually come in packaged of two, and I can fill four of my oven safe custard cups
with one crust. The apple filling recipe will fill 8 of these cups.
First I will cut each crust into four equal pieces and then I press them into the custard cups.  To get a nice fit into the cup, I tear off some pieces that stick out over the top of the cup and press them inside to fill any gaps.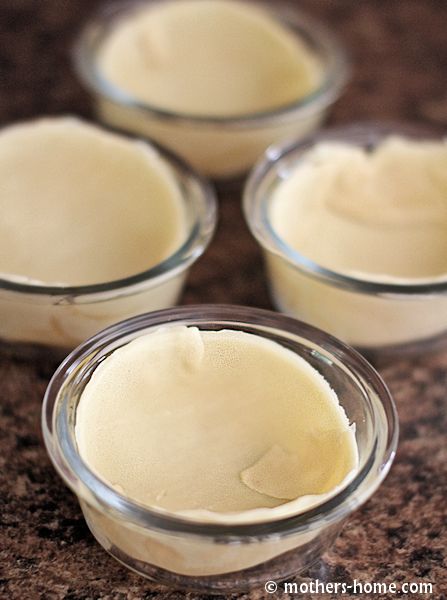 How to Make the Apple Pie Filling
Start out by gathering together these ingredients. You will also want to preheat your oven to 375 degrees F.
4 medium apples (Approximate)
3/4 cup sugar
1/4 cup flour
1/2 tsp. nutmeg
1/2 tsp. cinnamon
Dash of salt
2 Tbsp. butter or margarine (approximately)
When it comes to buying apples for these pies, I usually get Braeburn apples or a combination of Braeburn and Granny Smith apples.  If you would like to try other apples, keep in mind that some apples are better for baking than others.
Peel the apples and then cut them into thin slices.  For my individual pies, I usually also cut each slice in half.  You will want about 6 packed cups of apple slices.  Set these aside while you blend everything else together.
In a large bowl, mix together the sugar, flour, nutmeg, cinnamon, and salt.  Add the apples to this mixture and stir until the apple slices are well coated.
Pour the mixture into the pie crust or divide it evenly between 8 custard cups.  Dot the top of the apple mixture with small hunks of the butter or margarine.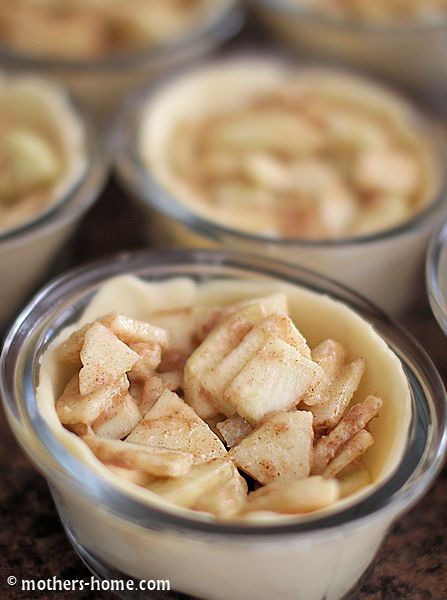 How to Make the Apple Crisp Topping
Now you are ready to make the crispy topping for the apple pie.  Gather these ingredients:
2/3 cup packed brown sugar
1/2 cup flour
1/2 cup oats
3/4 tsp. cinnamon
3/4 tsp. nutmeg
1/3 cup butter or margarine, softened
Measure all of the dry ingredients together well.  Then, cut in the butter or margarine until the mixture is well blended and crumbly. Spoon the topping onto the pie and gently pat it down.
Now you are ready to bake!  Cover the pie completely, yet loosely, with foil.  Bake for 40 – 50 minutes.  Remove foil and bake for about 15 – 20 minutes.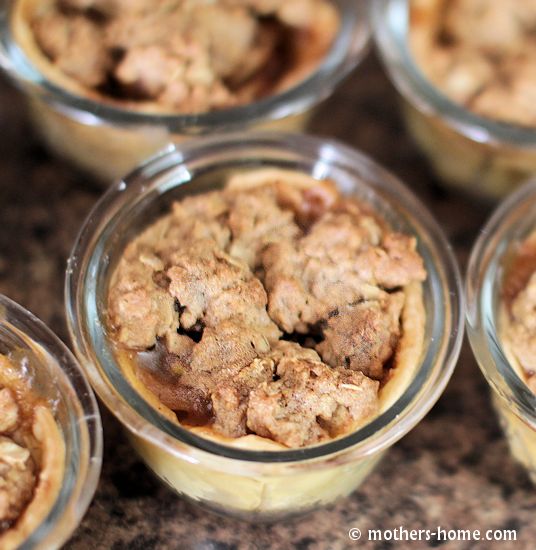 Let the pie cool. I usually serve it when it is still a little warm.  Top it with a scoop of ice cream (or whipped cream) and then drizzle on some warm caramel. I hope you family enjoys it as much as mine.