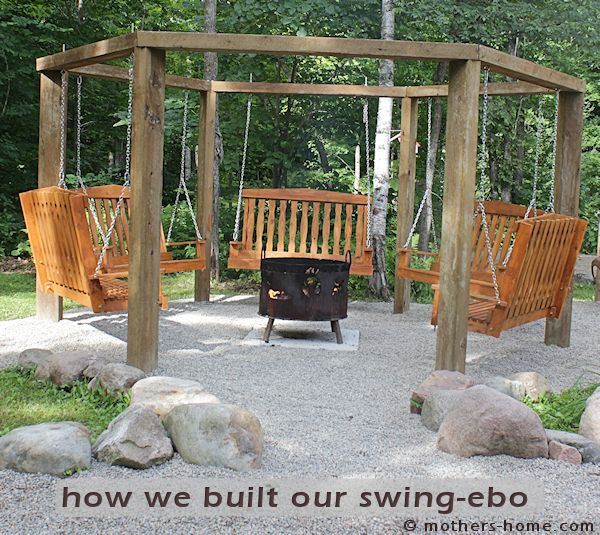 So, the first thing I need to say is that I did not find this Pinterest treasure on my own… A dear friend found it and shared it with me. She jokingly asked, "So, do you think you could build something like this for your cabin by the end of the summer?"


I gave her an LOL and showed the picture to my husband and told him what the friend had said. We both kind of chuckled and then he looked a little closer at the picture.
He says, "You know, I have a bunch of lumber in the shed that would work for this…"  We went digging in the shed and found more than enough green-treated pieces that were 6" x 10" and 12 feet long.
That is how our fire pit swing gazebo, or as I have dubbed it "swingebo", was born!
We started out making the hexagon.  That alone was quite the adventure! We needed each post in the hexagon to be 7 feet apart (to accommodate 5 foot swings). My husband found a video on YouTube he decided to follow and when we were done laying it out as the video explained, it was cockeyed :\. We had to take it out and start all over again.
He swore he knew exactly how to make one that would have the posts set 6 feet apart so we plotted out a hexagon using that configuration.  We were happy with the shape but not the size so we carefully enlarged the hexagon to get the 7 foot space between posts. We used a lot of string and quite a few stakes, but it worked great.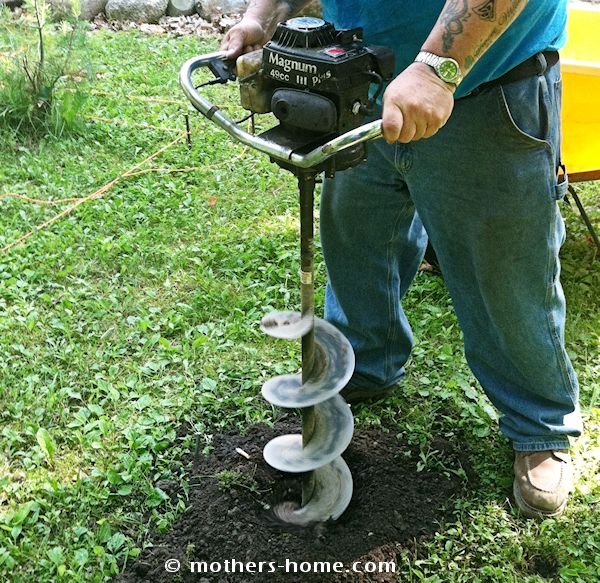 With the hexagon staked out, it was time to dig the holes. It was perfect that our boards were 12 feet long because our holes needed to be about 4 feet deep to get them in below the frost level (in hopes that when the ground freezes the posts don't get pushed up).  The digging went a lot faster than I thought it would because my husband used an old auger.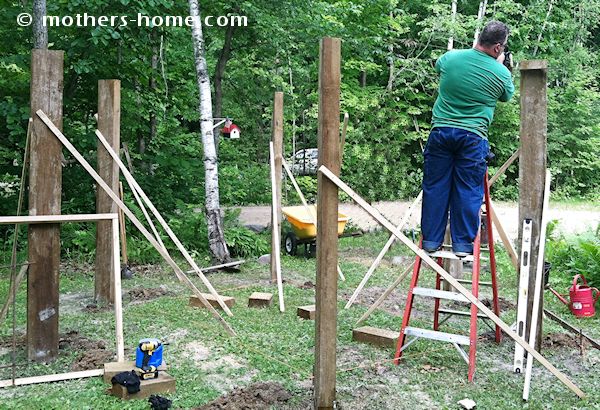 Once the holes were drilled we set the posts into the holes and set them in place using concrete that all you need to do is pour the bag into the hole and then pour in the water. We allowed the concrete to set completely and then my husband used a chain saw to cut off the tops of the posts so that they were all the same height.
To accomplish this, he measured one to 8-feet and cut it using a chain saw. We then use a 2' x 4' and a level to mark lines on the top of all of the other posts so he could cut them all to the same height.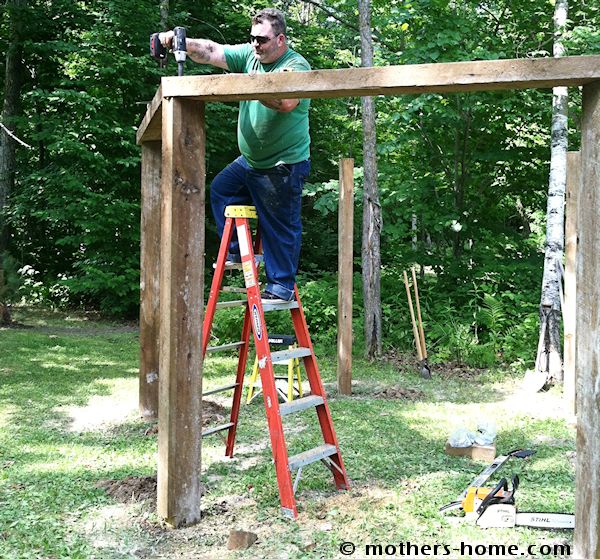 We used the same 6" x 10" x 12' boards to go around the top of the hexagon.  We laid the first one in place and my husband cut it to size using the chain saw. He cut each end at a 45 degree angle and screwed them in place. For each of the next 5 boards, we set them in place and marked off where they needed to be cut. My husband then cut each one and screwed them in place.
With all of those boards in place, the framework for our swingebo was complete (my husband didn't want to do the cross-bracing…  We will see how long that lasts for!)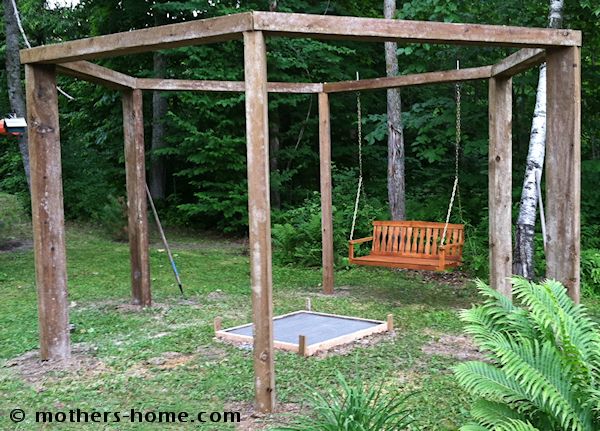 We poured a cement base to hold out fire pit. We built a frame and placed it in the center of the hexagon. Pours some cement to make a base and let it dry.
We found a 4-foot wide swing at our local home improvement store (the 5-foot ones had to be special ordered) just to try it out. I suppose we could have gotten one from Amazon, like this one: 5-Foot wide swing
(affiliate link). While it was nice to be able to see a swing hung up, we actually didn't end up using it.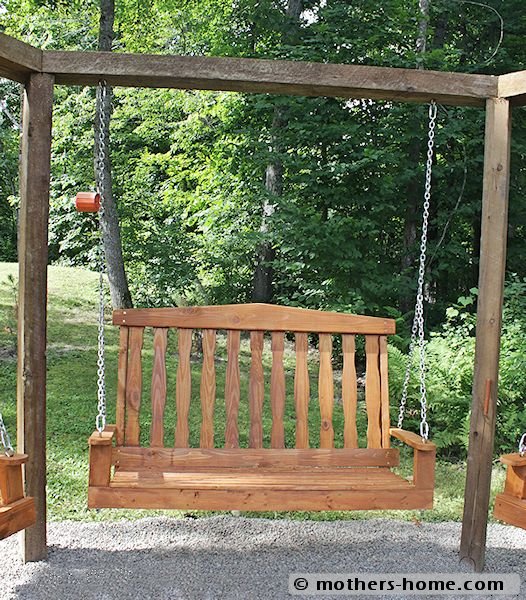 My husband enjoys wood working and did not think the quality of the swing we found was worth the $60 price tag. The swings we have now (and the one pictured above) were made by him for about the same amount of money. They are twice as big as the purchased ones and a lot more durable. While he did not write down the plans for this swing (other than rough notes), you can find plans online like this one: U-Bild 897 2 U-Bild 2 Porch Swing Project Plan
(affiliate link).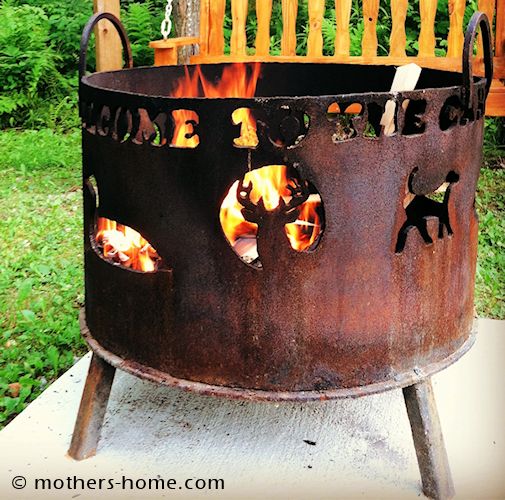 My husband also made this fire pit. The ring was cut from a caisson piling. He welded a metal plate to the bottom and drilled holes in it so the fire could breathe. He also welded legs onto it. He had a lot of fun making the shapes on the side playing with a plasma cutter.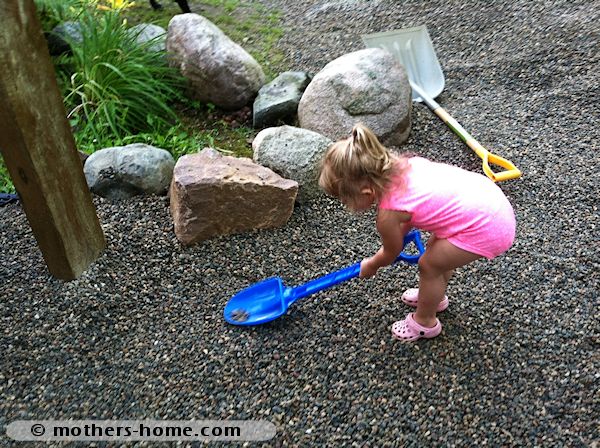 All that was needed to finish our swing set fire pit now was the gravel. First I sprayed all the weeds and grass around the area with Round-Up. When that was dry, I laid down black plastic everywhere we wanted the rock.  Luckily we had lots of adorable help when it came to spreading the rock.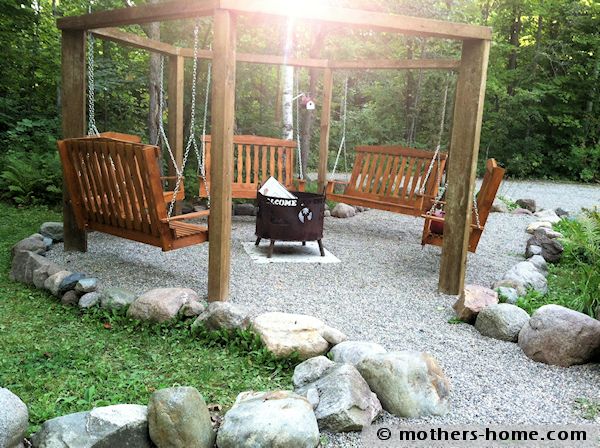 I was wrong…  There was one last thing we needed to feel like our swingebo was complete: more large rocks. We already had the large rocks lining the driveway. We use a few of those when we had to move them to make the path into the fire pit area. We spent one weekend rock hunting at the cabin and hit the jackpot so now all of the pebbles are bordered by larger rocks.
We both love the way this turned out and I love the amazing sunspot in this final picture I took. I like to think of it as grandma and grandpa showing how much they like it also!
Disclosure: As noted above, this post contains affiliate links. See my disclosure policy for details.