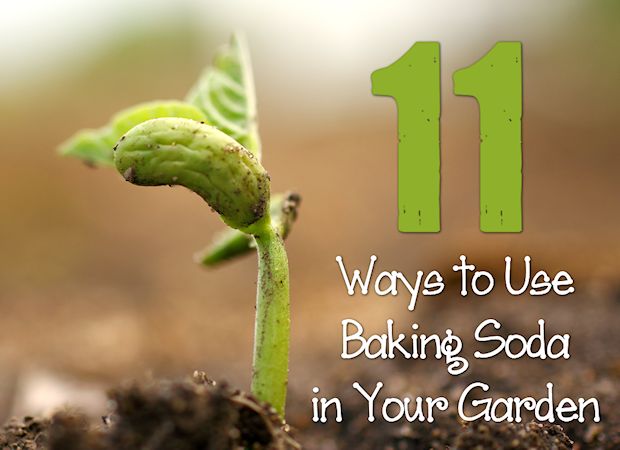 Awhile back, I posted a collection of 15 ways to clean around your house using baking soda. Now that the weather here is getting nice and I am itching to get out in my garden, I thought I would do a little research about different uses for baking soda in the garden.
Here is what I was able to learn… It is still a bit early for me to get out in my garden, but I hope to try these all soon!

1 – Before you plant your garden, use baking soda to test the PH level of the soil. Put a scoop of soil in a small container and wet it with some distilled water and then sprinkle baking soda on top of it. If the baking soda bubbles, you have acidic soil with a PH level that is probably lower than 5 (7 in neutral). To understand how to use this knowledge when it comes to planting your garden, read this informative article from Organic Gardening.
2 – Use baking soda to make a spray to help control powdery mildew. Mix together 1 Tbsp baking soda, 1 Tbsp vegetable oil, and 1 Tbsp liquid dishwashing soap. Stir this mixture into a gallon of water. Pour some of the mixture into a spray bottle and spray susceptible plants weekly. Apply it on an overcast day because the hot sun combined with the mixture may cause some burning on the plant. This mixture could also help treat Blackspot on roses.
3 – If you notice cabbage worms nibbling on cabbage, broccoli, or kale in your garden, you can get rid of them using baking soda. Mix together equal parts of baking soda and plain flour and dust it on those plants. Supposedly, the worms ingest the baking powder mixture while eating the leaves and their stomachs explode… Eww, but you gotta do what you gotta do! You will need to sprinkle more of the mixture occasionally, especially after a heavy rain.
4 – You can use baking soda to make your tomatoes sweeter. The lower the acid level is in the soil, the sweeter your tomatoes will be. If you sprinkle baking soda on the soil around your tomato plants (don't get it on the plant), it absorbs into the soil and helps to lower the acid level.
5 – If you find slugs in or around your garden, sprinkle baking soda directly on them. The baking soda will cause them to dry out and die.
6 – Sprinkling baking soda around your garden is supposed to help keep bunnies from nibbling on your plants. I am not so sure about trying this, especially since we know that the baking soda can affect the PH level in your soil. If you have a problem with bunnies, or other critters, I would try one of these 6 Ways to Keep Critters Out of Your Garden.
7 – If you have garden stones or a sidewalk in your yard that has grass and/or weeds growing in the cracks, use baking soda to get rid of it. Pour a generous amount of baking soda into the cracks and it should kill smaller weeds and prevent new ones from growing. You might have to pull out larger weeds and grass clumps first. Do this every few months and the grass and weeds should stay away.
8 – Baking soda can help if you have a problem with crabgrass. To kill crabgrass, simply spray it with water and then sprinkle baking soda on it. It takes a few days, but the crabgrass will die away. Be very careful not to sprinkle the baking soda on regular grass because it will kill that also.
9 – Use baking soda to help keep your cut flowers fresh longer. Fill your vase with water and mix in a teaspoon of baking soda.
10 – After you pick the fruit and vegetables growing in your garden, wash them using baking soda.  Pour some baking soda onto a damp rag or sponge and gently wipe down the fruit or vegetables with it. Rinse it and it is ready to use.
11 – When you are done working in the garden, you can clean the garden dirt off of your hands using baking soda. Get your hands wet and then rub them with baking soda. It will help to scrub the dirt out of all the little cracks and crevices. Rinse your hands well once they are clean.
I am anxious to get out in my garden and try some of these tips, how about you? Do you have any tricks for using baking soda in your garden? If so, please share it by commenting here. If you have success (or have no luck at all) using any of these tips, let us know!