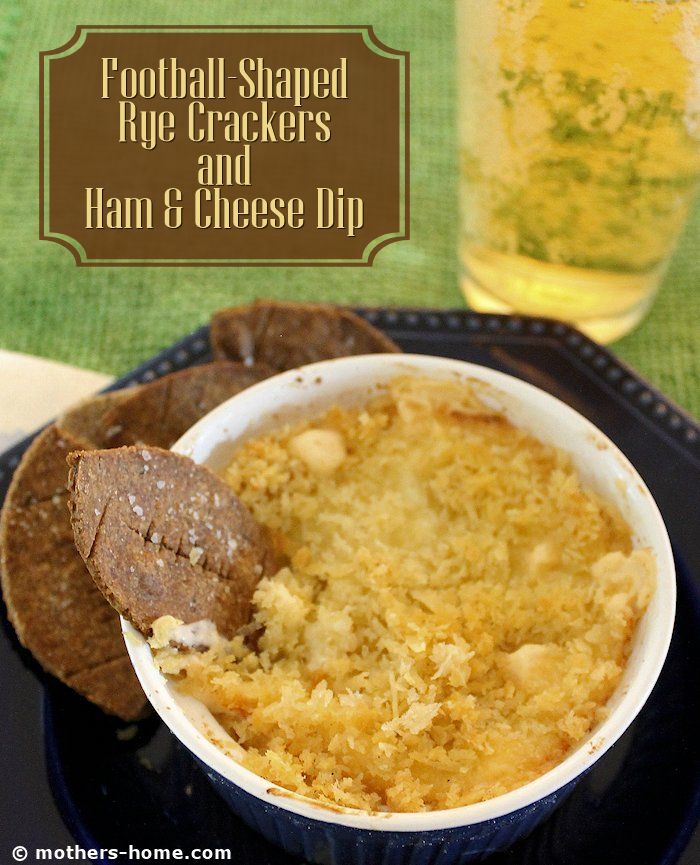 If you're hosting a Super Bowl viewing party, one of the most important details to plan is what food you are going to serve. While I am sure your guests will be happy with ordinary chips and dips, why not try something new that will keep them talking for weeks to come.


You can impress everyone by making rye crackers that are shaped like little footballs and serving them along with warm, cheesy dip. They look complicated (and amazing), but you won't believe how easy they are to make!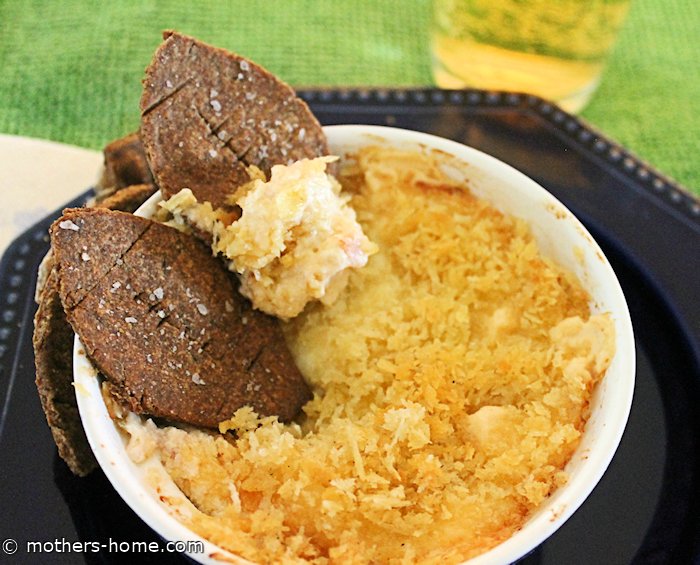 Homemade Football-Shaped Rye Crackers Recipe
These fun crackers are easy to make and they are firm and snappy – best of all, they are sturdy enough to lift up a big scoop of dip without breaking. The rye flavor complements the warm ham and cheese dip (recipe below) to perfection.
Ingredients Needed:
 2 cups dark rye flour
1/2 teaspoon baking powder
1/2 teaspoon Kosher salt
1 tablespoon caraway seeds
3 tablespoons olive oil
1/2 cup buttermilk
2 tablespoons water
Melted butter
Start off by preheating the oven to 375 F.
In a medium bowl, combine the flour, baking powder, salt, and caraway seeds. You can now add the olive oil, buttermilk, and water. Mix it well.
Work with half of the dough at a time, keeping the other half covered in the bowl. Place the dough on a piece of lightly floured parchment paper. Sprinkle with a little flour and cover with a second piece of parchment paper. Roll dough out to 1/8-inch thickness.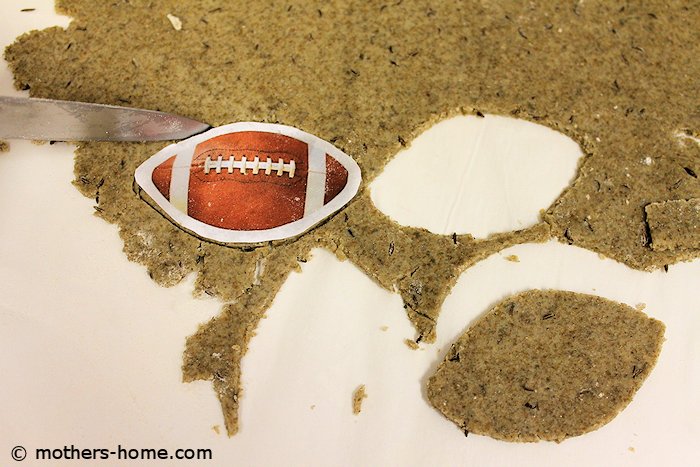 Using a football shaped cookie cutter or a template and sharp knife, cut out football shapes. Of course, if you are making this any other time of year, you can just cut the dough into strips, squares, or other shapes. Place the footballs on a cookie sheet.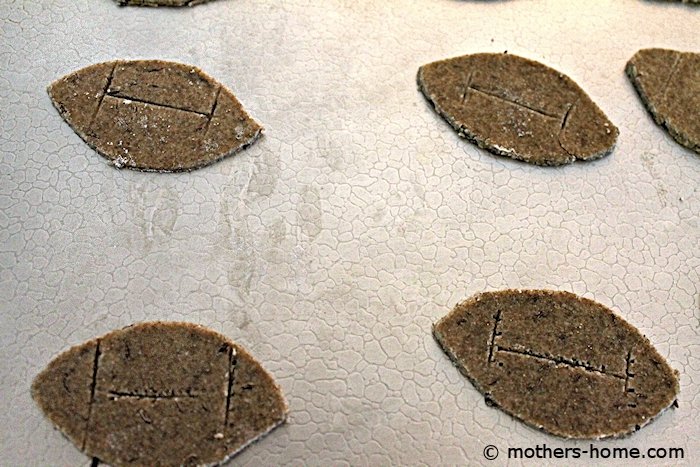 With a table knife you now should press side stripes, a short middle seam, and little laces onto each shape to resemble footballs. Make sure you don't cut them all the way through. Brush them lightly with melted butter and sprinkle with kosher salt.
Bake the crackers for approximately 14 minutes. Watch them closely; time can vary depending on the thickness of the dough and your oven. For best flavor, the crackers should be a rich dark brown.
Remove the crackers from the pan as soon as you can and allow them to cool on racks. Store them in a tightly sealed container.
 Ham and Cheese Dip Recipe
The following recipe makes one individual dip using a 9 ounce (approximately 4.5" wide) ramekin. Your guests will feel special when you present them with their own bowl of warm ham and cheese dip; plus, individual ramekins will help you avoid messy drips and even allow your guests to double dip.
 Ingredients Needed:
 4 ounces cream cheese, softened
1/2 cup chopped ham
1/2 cup grated cheddar cheese
2 tablespoons mayonnaise
A pinch each of garlic and onion powder
1/4 teaspoon worcestershire sauce
4 drops chipotle sauce (or 2-3 drops Tabasco)
1 slice Havarti cheese
1/4 cup Panko bread crumbs
1 teaspoon melted butter
Preheat your oven to 350 F. Lightly grease your ramekins.
In a small bowl, combine the cream cheese, ham, cheddar cheese, mayonnaise, garlic powder, onion powder, worcestershire sauce, and chipotle sauce. Mix until it is well combined.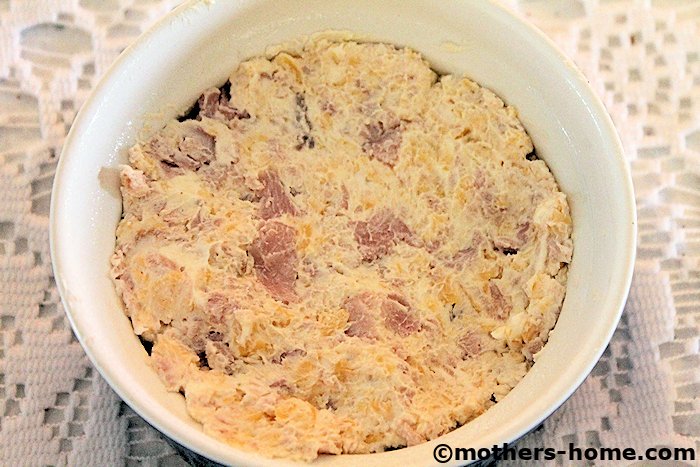 Spoon the mixture into prepared ramekins. Press down gently and smooth the top as well as you can.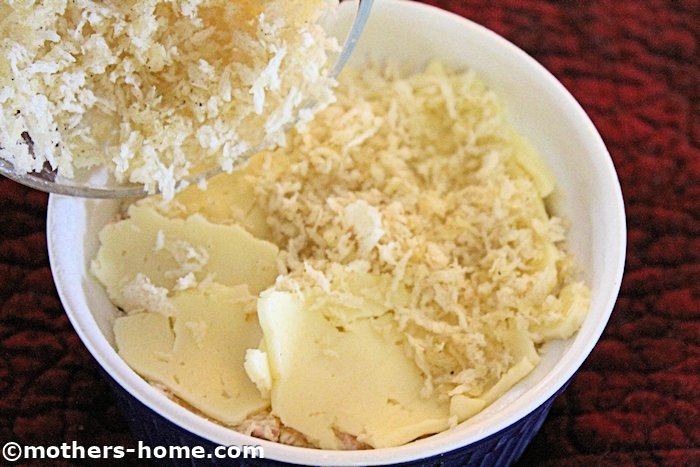 Lay a slice of Havarti cheese on the dip, covering the entire top of the dip. Combine the breadcrumbs and melted butter and then sprinkle it over the cheese.
Place the ramekins on a cookie sheet and bake it for 30 minutes. The breadcrumbs should just be starting to brown. Remove them from the oven and allow them to cool a bit.
This dip is best served warm with plenty of homemade football rye chips!