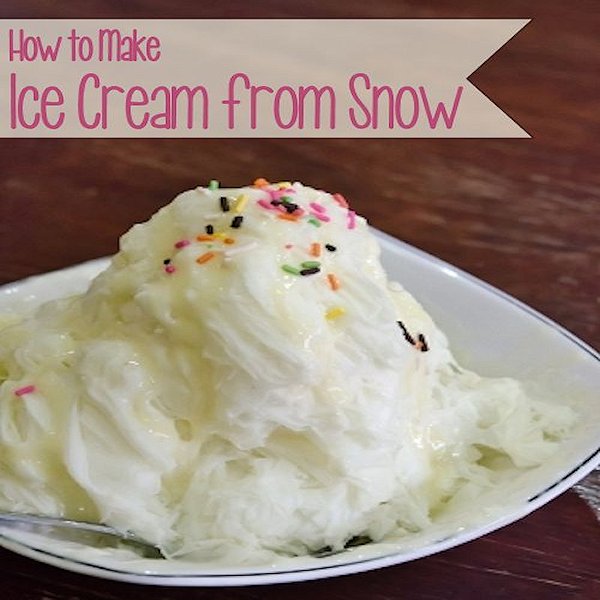 If you are lucky enough to live in an area that gets an over-abundance of snow, like I do, then you will probably agree that there comes a time every year when you get tired of the snow — really tired of the snow… When that time rolls around, why not use the snow to make a sweet treat!

Use this recipe, along with these tips and flavor ideas, to turn a few scoops of snow into a tasty ice cream treat with a few basic ingredients. You should have the ingredients you need to make this ice cream in your kitchen, except, of course, the snow.

Obviously, the snow is the most import thing you need for this recipe. You will want to start out with about 10 cups of clean snow. This will probably be more that you will need, but you don't want to be caught short. You can simply go out in your yard and scoop up some snow, but the best method for gathering the snow you will need to place a large container (or two) outside when it is snowing. Don't pack the snow.
Once you have your snow, you can prepare the other ingredients. While you are mixing everything else together, leave the snow outside or place it in your freezer.
The other ingredients you need are:
    1 cup of milk
    1/2 cup sugar
    1 teaspoon vanilla
Mix together the milk, sugar, and vanilla.  Stir this until the sugar is dissolved.  At this point, you can add some extra flavor to your snow ice cream.
If you want chocolate ice cream, try adding some chocolate syrup to your milk. If you like the flavor of vanilla more, add an extra teaspoon.  You might also want to try experimenting with other flavors using extracts you can get in the spice section of your grocery store. I think peppermint, maple, or banana flavors could be interesting!
Slowly pour a little snow at a time into the milk mixture, stirring constantly. Keep adding and stirring until it is as thick as ice cream. Remember, you may not use all of the snow.
Once you are happy with the consistency, your snow ice cream is ready.  Don't forget to add a very sprinkles on top and even a cherry if you like.
Image courtesy of rakratchada torsap at FreeDigitalPhotos.net