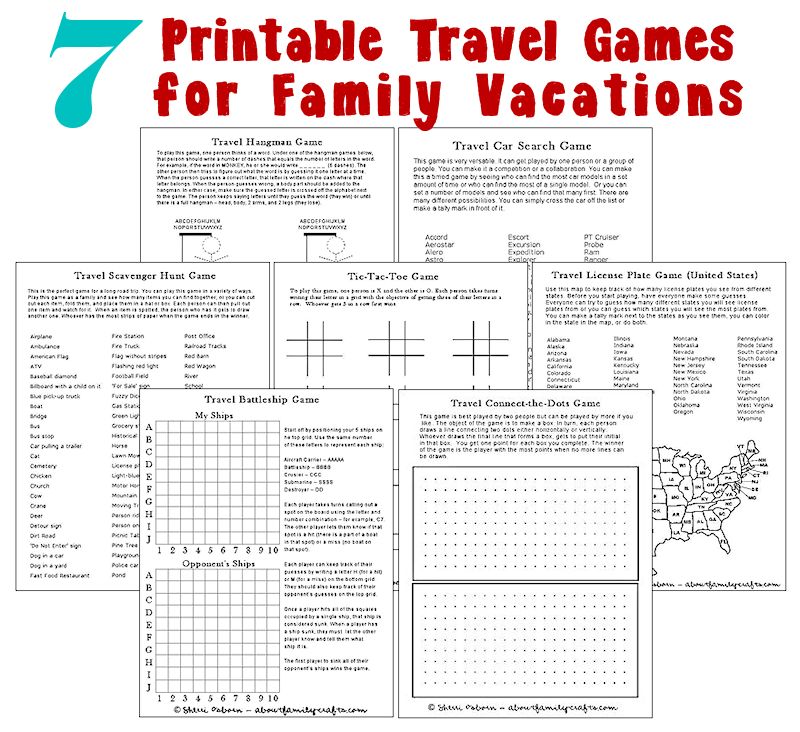 Being stuck in a car for a long time when you go on a family vacation can sometimes be hard on kids, which can then make it hard on adults. Finding ways to pass the time can make a long drive easier on everyone, and hopefully the ideas I share here will help.


Download these printable travel games and take them along on your next vacation so you can break them out when everyone starts getting bored and antsy.
Travel Battleship Game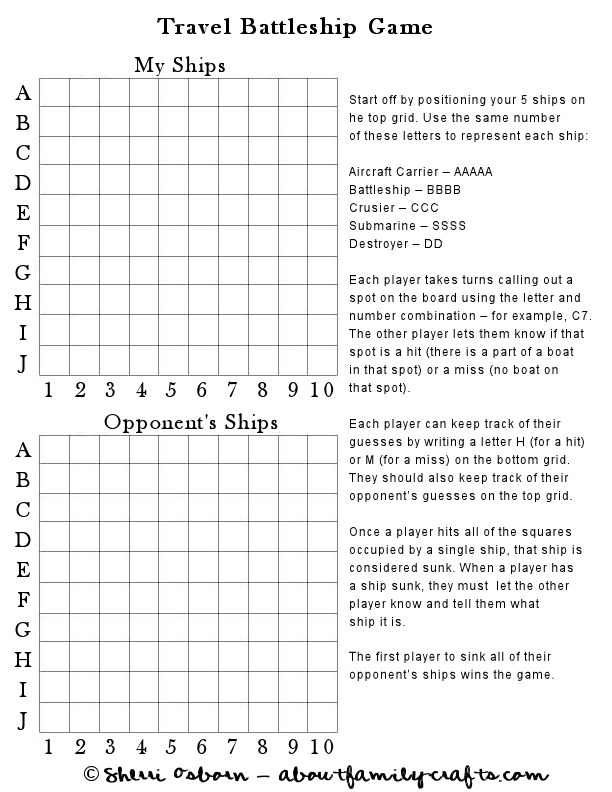 Download this Game:


| PDF | JPG |

To play this battleship game, each player takes turns calling out a spot on the board using the letter and number combination – for example, C7. The other player lets them know if that spot is a hit (there is a part of a boat in that spot) or a miss (no boat on that spot).

Each player can keep track of their guesses by writing a letter H (for a hit) or M (for a miss) on the bottom grid. They should also keep track of their opponent's guesses on the top grid.

Once a player hits all of the squares occupied by a single ship, that ship is considered sunk. When a player has a ship sunk, they must let the other player know and tell them what ship it is.

The first player to sink all of their opponent's ships wins the game.
Travel Car Search Game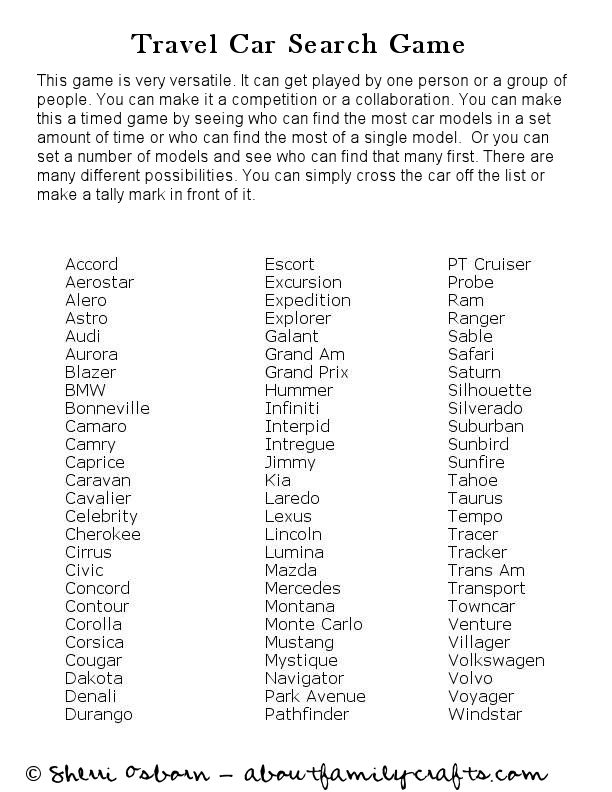 Download this Game:


| PDF | JPG |

This game is very versatile. It can get played by one person or a group of people. You can make it a competition or a collaboration. You can make this a timed game by seeing who can find the most car models in a set amount of time or who can find the most of a single model. Or you can set a number of models and see who can find that many first. There are many different possibilities. You can simply cross the car off the list or make a tally mark in front of it.
Travel Connect-the-Dots Game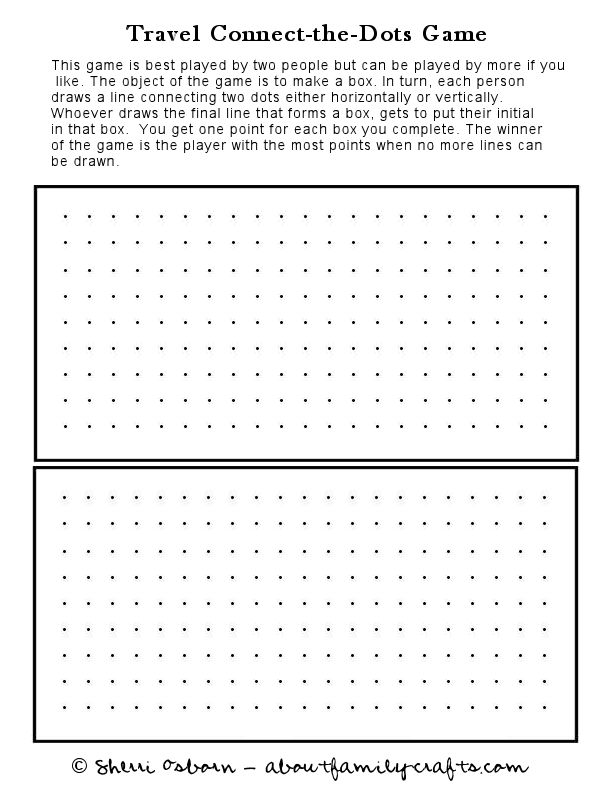 Download this Game:


| PDF | JPG |

This game is best played by two people but can be played by more if you like. The object of the game is to make a box. In turn, each person draws a line connecting two dots either horizontally or vertically. Whoever draws the final line that forms a box, gets to put their initial in that box. You get one point for each box you complete. The winner of the game is the player with the most points when no more lines can be drawn.
Travel Hangman Game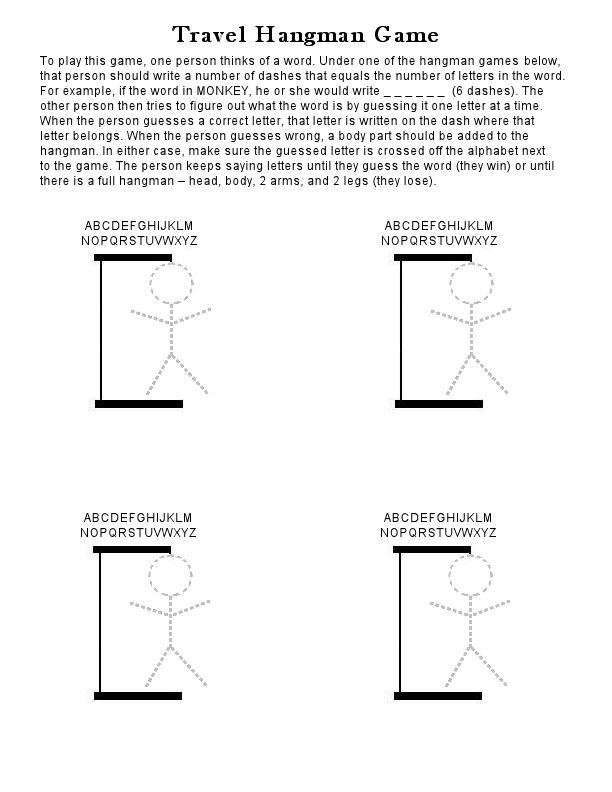 Download this Game:


| PDF | JPG |

To play this game, one person thinks of a word. Under one of the hangman games, that person should write a number of dashes that equals the number of letters in the word. For example, if the word in MONKEY, he or she would write _ _ _ _ _ _ (6 dashes). The other person then tries to figure out what the word is by guessing it one letter at a time. When the person guesses a correct letter, that letter is written on the dash where that letter belongs. When the person guesses wrong, a body part should be added to the hangman. In either case, make sure the guessed letter is crossed off the alphabet next to the game. The person keeps saying letters until they guess the word (they win) or until there is a full hangman – head, body, 2 arms, and 2 legs (they lose).
Travel License Plate Game (United States)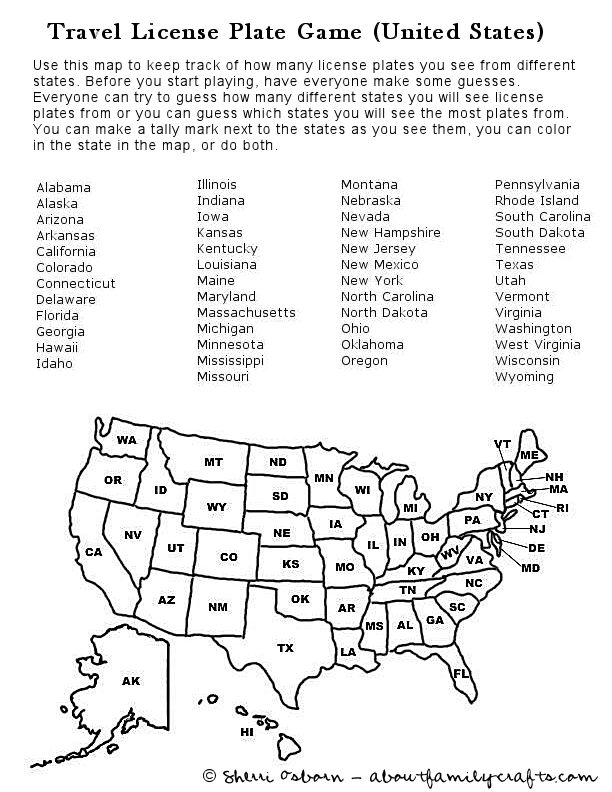 Download this Game:


| PDF | JPG |

Use the map on this printable to keep track of how many license plates you see from different states. Before you start playing, have everyone make some guesses. Everyone can try to guess how many different states you will see license plates from or you can guess which states you will see the most plates from. You can make a tally mark next to the states as you see them, you can color in the state in the map, or do both.
Printable Tic-Tac-Toe Game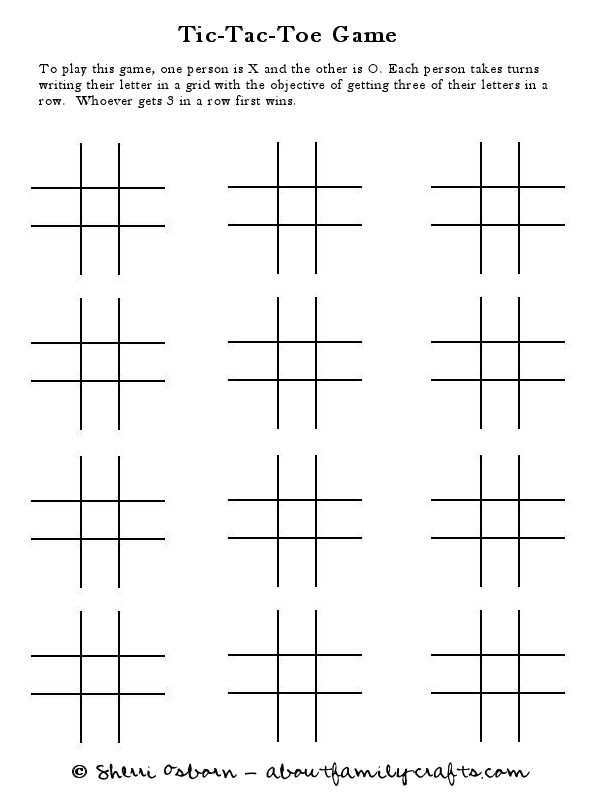 Download this Game:


| PDF | JPG |

To play this game, one person is X and the other is O. Each person takes turns writing their letter in a grid with the objective of getting three of their letters in a row. Whoever gets 3 in a row first wins.
Travel Scavenger Hunt Game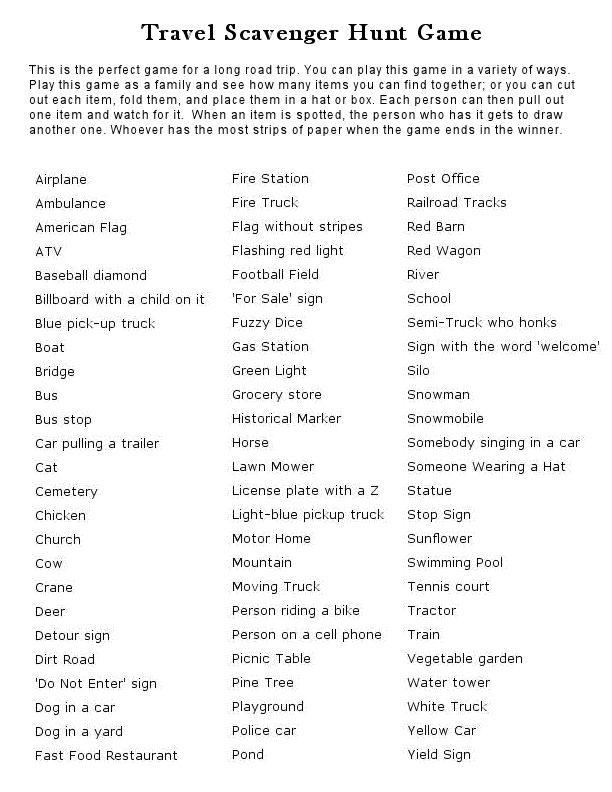 Download this Game:


| PDF | JPG |

This is the perfect game for a long road trip. You can play this game in a variety of ways. Play this game as a family and see how many items you can find together; or you can cut out each item, fold them, and place them in a hat or box. Each person can then pull out one item and watch for it. When an item is spotted, the person who has it gets to draw another one. Whoever has the most strips of paper when the game ends in the winner.

I hope these printable travel games come in handy on your next car ride. If your family has a favorite travel game or activity, please share it with us!