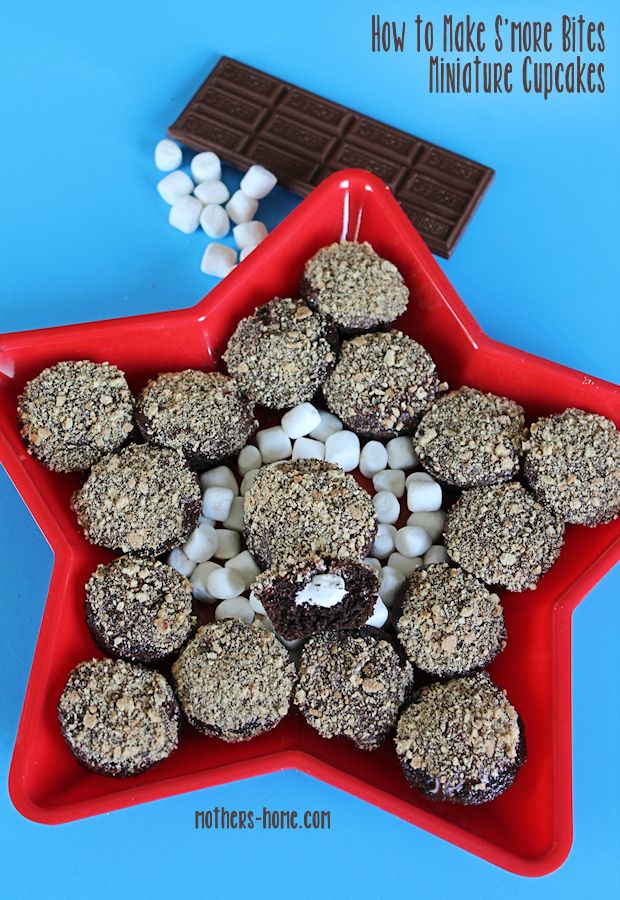 With picnic and potluck season in full swing, it's great to have a recipe that feeds a crowd and pleases everyone and these S'more Bites fits the bill. It is a fun twist on an iconic campfire treat that will quickly become a favorite of people of all ages.


Rich chocolate mini-cakes are filled with homemade marshmallow cream and then dipped in chocolate and crushed graham crackers. They are not only easy to make, they are easy to eat and less messy than the real thing!
 S'MORE BITES MINI-CUPCAKE RECIPE
This recipe should make around 100 bites. While that sounds like a lot, they will go fast. It's unlikely, but if you find yourself with leftovers, they also freeze very well.
You will need:
1 recipe Chocolate Cake (below)
1 recipe Marshmallow Cream (below)
1 package (12 ounces) semi-sweet chocolate chips
2 Tbsp shortening
1 sleeve (about 4 3/4 ounces) graham crackers (approximate)
Miniature marshmallows (optional)
Make the Chocolate Cake Recipe:
4 ounces unsweetened chocolate
2/3 cup strong hot coffee
2 cups flour
1 1/2 teaspoon baking powder
1 teaspoon baking soda
1 teaspoon salt
1 3/4 cups sugar
2/3 cup cooking oil
1/2 cup milk
1/2 cup buttermilk
1 teaspoon vanilla
3 eggs
Heat your oven to 350 F.
Generously spray the mini-cupcake pans with an oil and flour spray, or grease and flour well.
Chop up the unsweetened chocolate and place in a small bowl. Pour the hot coffee over it and set it aside.
In a large bowl, combine flour, baking powder, baking soda, salt, and sugar.
In a second bowl, mix together the oil, milk, buttermilk, and vanilla.
On medium speed, mix the oil, milk, buttermilk, and vanilla mixture into the flour mixture.
Add the eggs, one at a time, mixing well after each addition.
Grab the coffee and chocolate mixture again and stir it. If all of the chocolate hasn't melted, put it in the microwave for 15 seconds. Stir well and repeat if necessary. The mixture may not be perfectly smooth, but make sure there are no chunks of chocolate remaining.
Slowly add the chocolate mixture to the batter and mix on medium speed for one minute. Batter will be thin.
Fill mini-cupcake pans about half full and bake for 10-12 minutes. Cakes should spring back when pressed gently, or a toothpick inserted in the middle should come out clean.
Cool in the pan for 3-4 minutes and then tip the cakes out onto a wire racks and let them cool completely.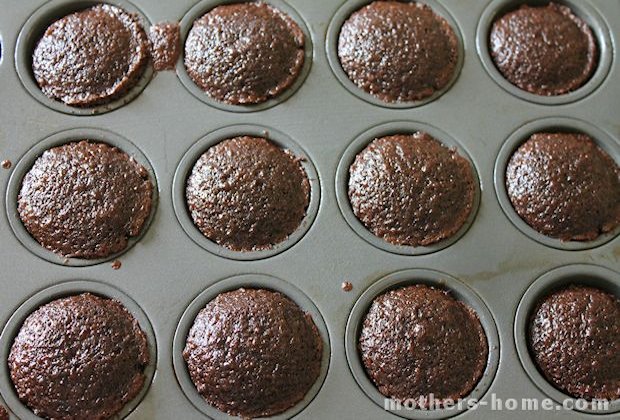 Make the Marshmallow Cream Recipe:
2 egg whites
1 1/2 teaspoons vanilla
1/4 teaspoon salt
1/4 cup granulated sugar
3/4 cup light corn syrup
In a medium bowl, whip egg whites, vanilla, and salt until foamy.
On medium speed, add sugar a little at a time, until all sugar is added and soft peaks form.
In a small pan on medium-high heat, bring the corn syrup to a low boil. With mixer running, pour the hot syrup very slowly in a thin stream over the egg whites. Turn the mixer up to high speed and beat until the marshmallow cream is very thick.
 To Assemble the S'more Bites Cupcakes: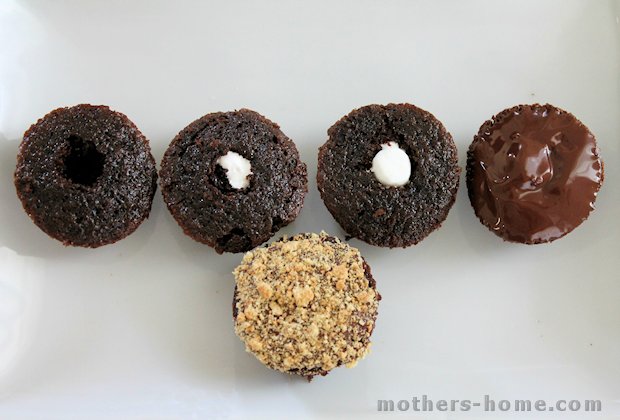 Once the cupcakes are completely cooled, use a wooden spoon handle to make a hole in the middle of each cake. The hole should go as far down as possible without poking through the bottom of the cupcake. If you want to add a touch more marshmallow filling, you could use a paring knife to cut a slightly larger hole in the cupcake, just keep in mind you may have to make more marshmallow cream!
Fill a large, plastic zipper bag with the marshmallow cream and snip one of the corners off. Fill the hole in each cupcake. If you like, you can then "plug" the hole with a miniature marshmallow. I started out doing this and then decided the marshmallow cream was thick enough it didn't need a plug. Alternatively, if you would rather not make your own marshmallow cream, you can simply stuff the holes with a miniature marshmallow or two.
Finely crush the graham crackers and place them in a shallow dish.
In a small bowl, melt the chocolate chips and shortening together by microwaving them on high 15-20 seconds at a time, stirring with each increment. Stir until smooth.
Dip the top of each cupcake into the chocolate to cover the hole and marshmallow cream and then immediately into the crushed graham crackers. Set them on a plate or tray until the chocolate is firm.
Once the chocolate has cooled, your S'more bites miniature cupcakes are ready to be served. If you have leftover chocolate, marshmallow cream, and graham crackers you can make S'more sandwiches!
Don't let the length of this recipe intimidate you. They are easy to make, I promise! That being said (and don't tell anyone I told you this), if you are worried about making your cake and marshmallow cream from scratch, you can make this recipe using a box mix and a jar of marshmallow fluff or even just miniature marshmallows.