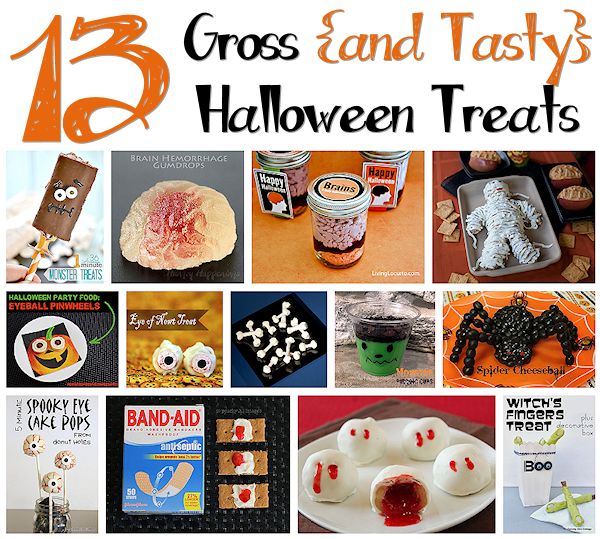 I love Halloween and all of the spooky and sometime disgusting things that go along with it. That love is what inspired me to scour the Web searching for some truly gross Halloween treats to make.


I came up with this collection and I think there is plenty of variety to suit your needs for pretty much any purpose.  You can whip up any of all of these to serve to your Halloween visitors, to serve at a costume party, or you can even package them to give to trick-or-treaters.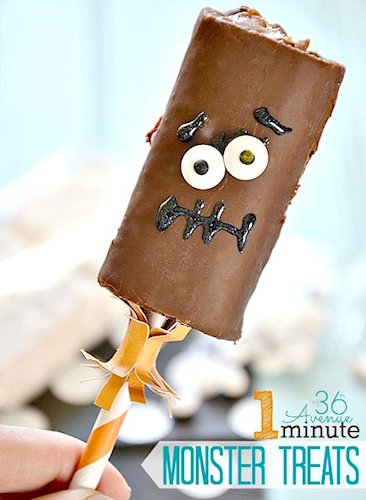 1 Minute Halloween Monster Treats from The 36th Avenue
Even if you think you don't have enough time to make a special treat, you can make these little monsters.  You can seriously make one in a minute.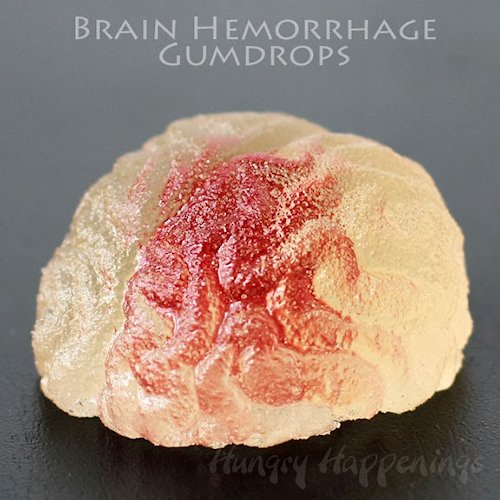 Brain Hemorrhage Gumdrops  from Hungry Happenings
While this recipe sounds a little more complex, but it is so gross that I think it is worth the extra work!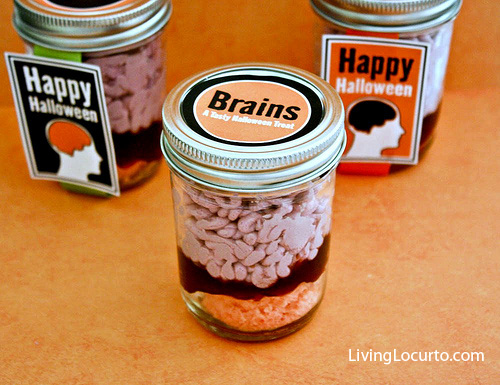 Brains in a Jar Cupcakes from Living Locurto
I love the look of this easy-to-assemble treat. To fill the jar, all you need is raspberry jam, pink cake, and frosting. It sounds delicious!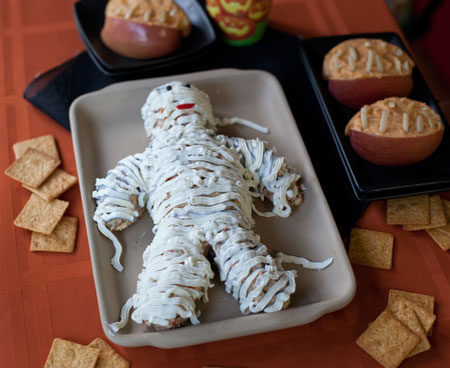 Cheese Mummy from Eating Richly
I love the look of this mummy that is wrapped in bandages made from cream cheese.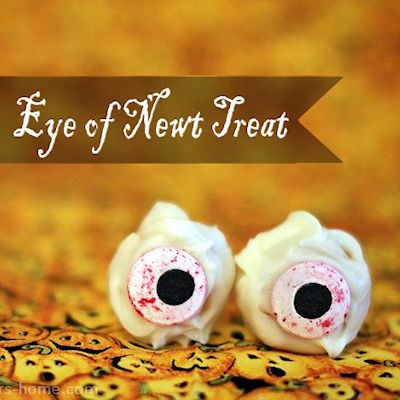 Eye of Newt Treat from Mother's Home
Check out these eyeballs I created using peanut butter crackers, white chocolate, and a piece of candy.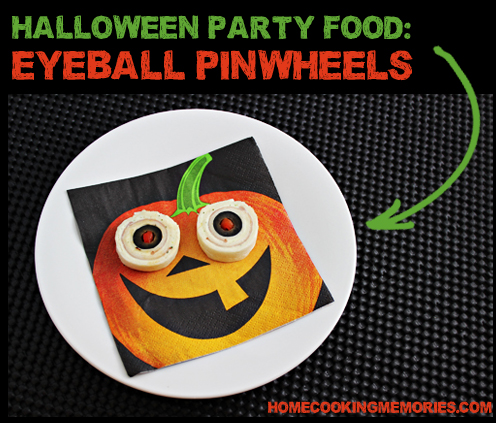 Eyeball Pinwheels from Home Cooking Memories
This makes a perfect food for a Halloween party or also would be great tucked into a kid's lunch box.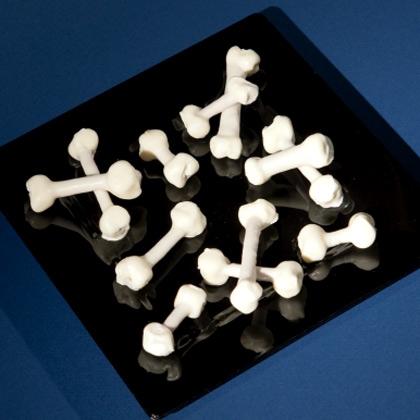 Funny Bones from Spoonful
Discover how to make miniature funny bones using pretzel sticks, marshmallows, and white chocolate.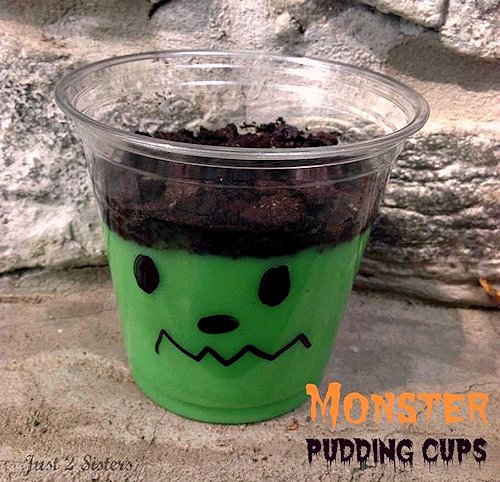 Monster Pudding Cups from Just 2 Sisters
Another easy Halloween treat… Make this using pudding that is tinted green, crushed cookies, a clear glass, and a permanent marker.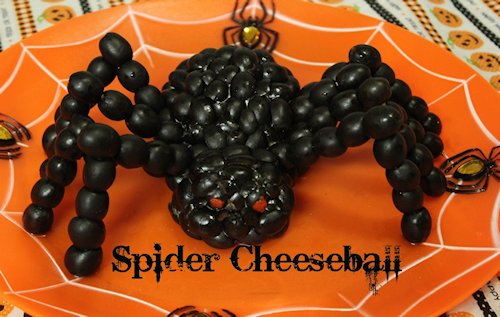 Spider Cheese Ball from Mom Endeavors
Follow this recipe and you can make a cheese ball that is covered by black olives. I love the look of this.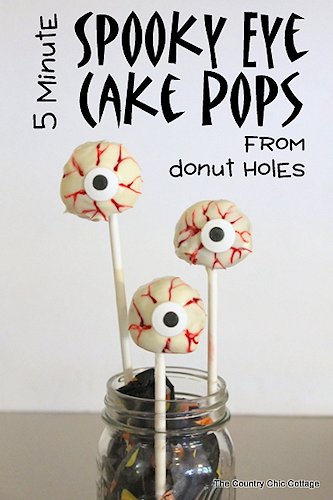 Spooky Eye Cake Pops from The Country Chic Cottage
Like the 1 minute monsters above, these cake pops are super simple to make because they are made out of purchased donut holes.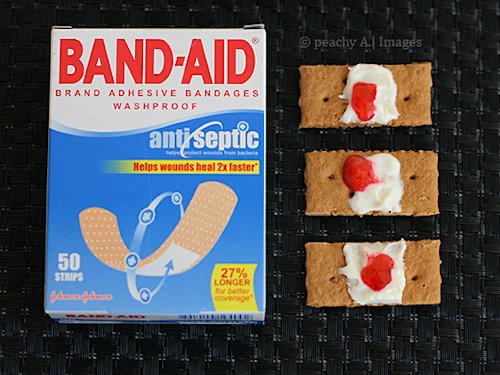 Used Band Aids from The Peach Kitchen
I think this is a great way to gross out everyone you know. Learn how to make band aids, complete with drops of blood.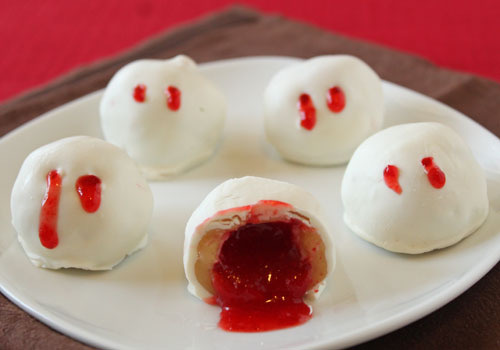 Vampire Truffles from About Candy
I love how these sweet, little candies look like they have been bitten by a vampire.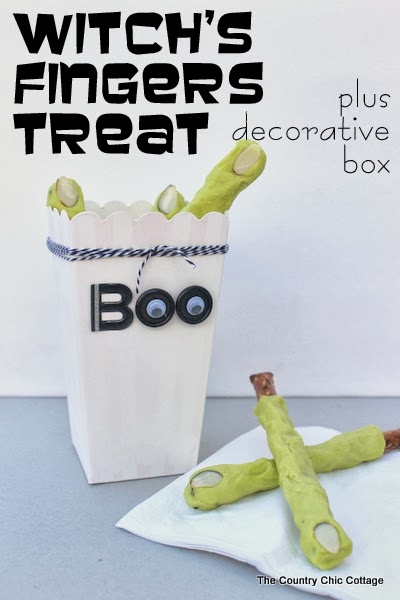 Witches Fingers from The Country Chic Cottage
These spooky fingers are easy to make using pretzel rods, green candy melts, and almond slices.
As I searched for gross Halloween treat recipes, I gushed over each one – exclaiming it as my favorite; but then I would find the next one and decide it was my favorite. Truth be told, there is no way I can decide which one I like best. How about you? Do you know of a gross recipe that should be added to this collection?