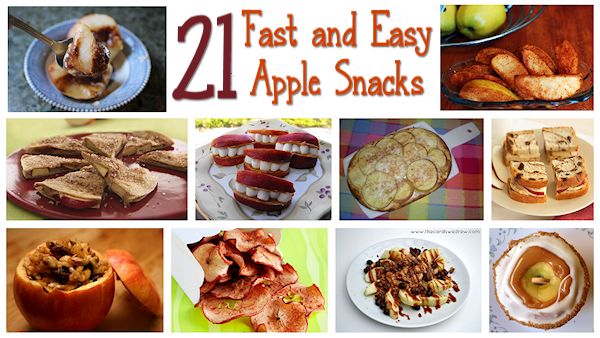 While one of my favorite apple treats is my homemade apple crisp pie, when I posted the recipe I got to thinking about other apple snacks. There are plenty of amazing apple recipes online, but I thought I would focus on apple snacks that are quick and easy to prepare.  These make great  after school snacks or party treats.


You might want to go grab a napkin before you start reading through these recipes…  I promise, you will start drooling at some point!


Apple & Cheese Snacks @ Kitchen Daily
Learn how to assemble mini sandwiches using crackers, cheese, apples, and cinnamon.
Apple Chips @ Ontario Apples Growers
You don't need any fancy gadgets or appliances to turn apples into crunchy chips, you can simply do it in the oven.
Apple Nachos @ The Cards We Drew
This easy snack recipe had me at the word nacho!


Apple, Peanut Butter, and Pumpkin Seed Stacks @ Pop Sugar
These easy to make snacks will satisfy your sweet and salty cravings.
Apple Pie Apple @ The Cooking of Joy
THis recipe puts a whole new twist on a classic caramel apple. First you dip it in caramel, then you dip it in white candy melts, and then you roll it in a mixture of brown sugar and cinnamon.
Apple Snack Wedges @ Taste of Home
These healthy snacks are made using apples, crushed Chex cereal, peanut butter, and brown sugar.


Baked Apples @ Cooking With My Kids
While this s'more stuffed apple does take awhile to cook, the prep is very fast and easy and something the entire family may have fun doing.
Bite-Size Apple Pies @ Immaculate Baking
While you might not think that something called apple pie would be a fast and easy snack, but these are simply apple slices rolled in crescent roll dough.
Caramel Apple Bites @ Try it Mom
This looks so simple yet oh so tasty.


Chicken & Apple Wrap @ Lovely Little Snippets
This wrap, which includes chicken apple, string cheese, and lettuce, looks so good.
Chocolate-Peanut Butter Granola Apple Bites @ The Comfort of Cooking
I think not only does the title of this snack explains it well, the picture is worth a thousand words.
Chocolate Raisin Apple Snack @ Sun-Maid
I love chocolate covered raisins so I think this combination of those, apples, and peanut butter sounds amazing.


Cinnamon Apple Snacks @ Super Healthy Kids
This is such a simple snack, all you need is an apple, some cinnamon, and a plastic sandwich bag.
Creamy Apple-Cinnamon Quesadilla @ Pillsbury
Add this to the "Why didn't I think of this" file! Made with apples, tortillas, cream, cheese, and a few other supplies.
Hillbilly Teeth Snack @ Full bellies, Happy Kids
Check out this fun snack and learn how to make an apple smile using 2 apple wedges, some peanut butter, and miniature marshmallows.


Home-Made Applesauce Recipe @ About
In little more than a half an hour, you can serve up some home-made applesauce.
Jenn's Apple-izza @ The Misunderstood Eggplant
This minature pizza, which uses a tortilla as a crust, looks too good to resist.
Peanut Butter & Apple Snack Squares @ Pepperidge Farm
Make one of these tasty sandwiches using raisin bread, apples, peanut butter, honey, and cream cheese.


Race Car Snacks from Apple Slices @ Craft Jr.
Learn how to construct pretend race cars out of apple wedges, toothpicks, and grapes or cheese.
Squirmy, Wormy Apples @ Babble
A gummy worm is a wonderful finishing touch for this peanut butter stuffed apple.
Stuffed Apple Snack Recipe @ Hub Pages
These stuffed apple snacks are not only healthy, they are portable.
I hope you get the chance to try many of these tasty recipes. When you visit all of these amazing recipes, make sure you leave a comment and tell them thank you for sharing their time and talents. If you run across or have posted a cool apple snack recipe, please feel free to share your link too.