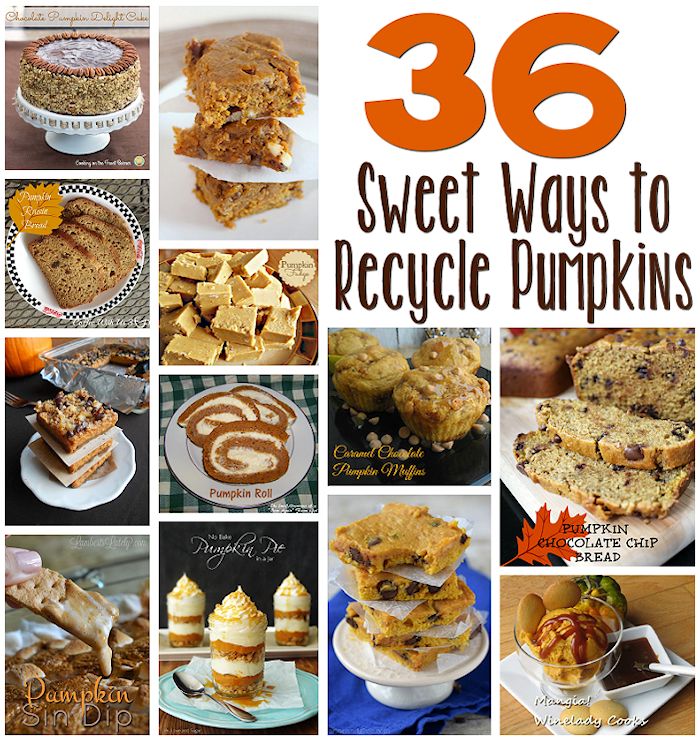 Okay, so you probably don't want to recycle a jack-o-lantern by cooking with it, but some of these recipes can probably be made using the pieces you cut from the pumpkin! It is easy to use pieces of pumpkin to make your own pumpkin puree. Of course, if you prefer, you can use canned pumpkin puree. You can then use that puree to make some of these sweet pumpkin treats. When you are cleaning out your pumpkins, remember to save the seeds so you can roast them!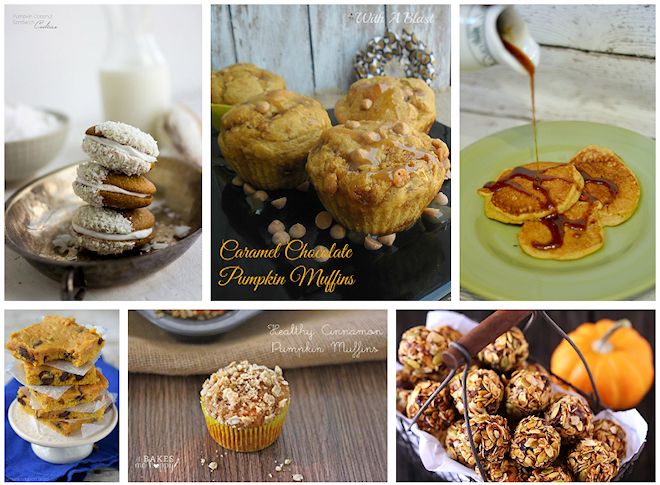 1 – Pumpkin Cookies with Coconut Cream and White Chocolate from Food Faith Fitness
2 – Caramel Chocolate Pumpkin Muffins from With a Blast
3 – Pumpkin Spice Syrup from Eclectic Momsense
4 – Easy Pumpkin Spice Bars from Wine and Glue
5 – Healthy Cinnamon Pumpkin Muffins from White Lights on Wednesday
6 – Pumpkin No Bake Energy Bites from Gimme Some Oven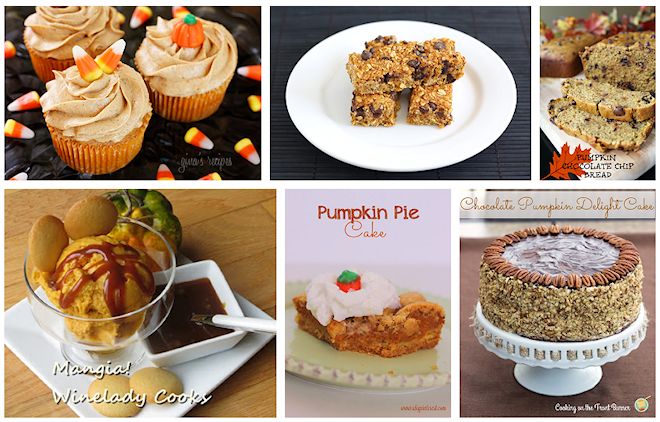 7 – Pumpkin Cupcakes with Pumpkin Spiced Cream Cheese Frosting from Skinny Taste
8 – Pumpkin Chocolate Chip Granola Bars from Two Peas and Their Pod
9 – Chocolate Chip Pumpkin Bread from Mommy on Demand
10 – Pumpkin Pie Ice Cream from Wine Lady Cooks
11 – Pumpkin Pie Cake from I Dig Pinterest
12 – Chocolate Pumpkin Delight Cake from Cooking on the Front Burner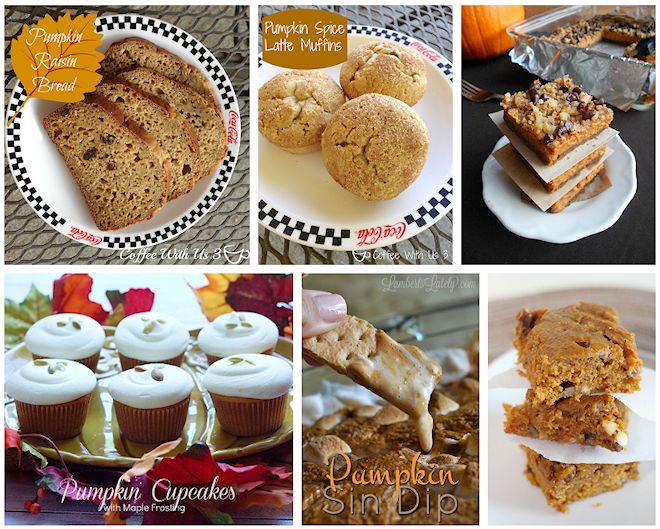 13 – Pumpkin Raisin Bread from Coffee With Us 3
14 – Pumpkin Spice Latte Muffins from Coffee With Us 3
15 – Pumpkin Magic Bars from Culinary Couture
16 – Pumpkin Spice Cupcakes with Maple Frosting from Food, Folks and Fun
17 – Pumpkin Sin Dip from Lamberts Lately
18 – Pumpkin Blondies from The Paper Heart Studio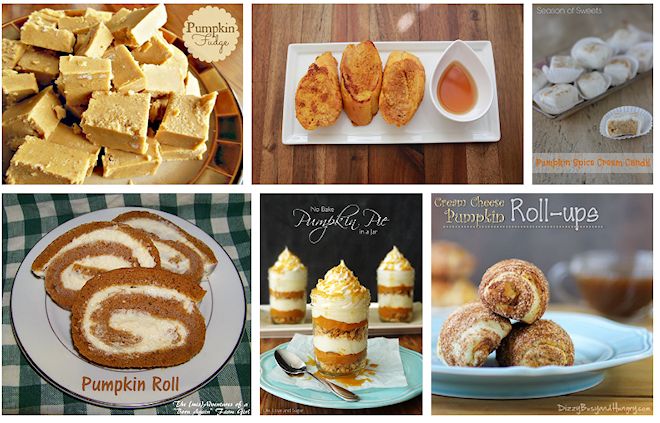 19 – Pumpkin Fudge from DIY Budget Girl
20 – Pumpkin French Toast from Rustic Peach
21 – Pumpkin Spice Cream Candy from Season of Sweets
22 – Pumpkin Roll from The Misadventures of a Born Again Farm Girl
23 – No Bake Pumpkin Pie in a Jar from Life, Love and Sugar
24 – Cream Cheese Pumpkin Rollups from Dizzy, Busy and Hungry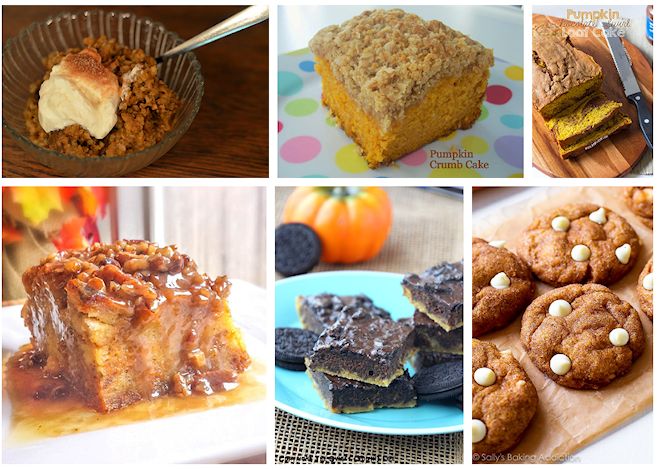 25 – Crock Pot Pumpkin Gingerbread Steel Cut Oats from Stacy Makes Cents
26 – Pumpkin Crumb Cake from Flavors by Four
27 – Pumpkin Chocolate Swirl Loaf Cake from Annie's Noms
28 – Pumpkin Praline Bread Pudding from Flavor Mosaic
29 – Oreo Frosted Pumpkin Swirl Brownies from The Sweet-Tooth Life
30 – White Chocolate Pumpkin Snickerdoodles from Sally's Baking Addiction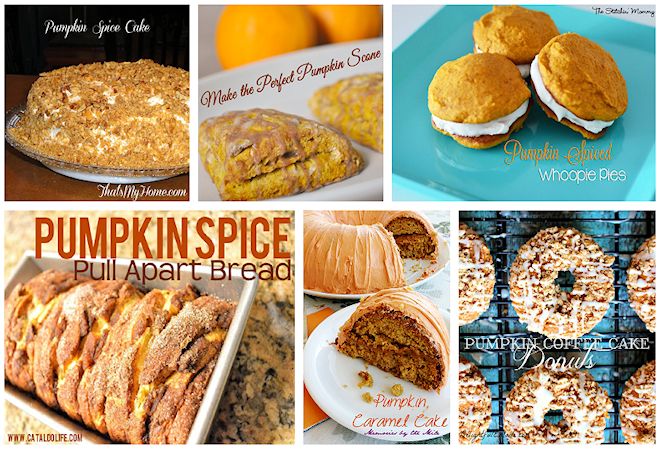 31 – Pumpkin Spice Cake from Recipes, Food and Cooking
32 – Spice Glazed Pumpkin Scones from The Love Nerds
33 – Pumpkin Spiced Whoopie Pies from The Stitchin' Mommy
34 – Pumpkin Spice Pull Apart Bread from Captain America and His English Rose
35 – Pumpkin Caramel Cake from Memories by the Mile
36 – Pumpkin Coffee Cake Donuts from Delightful Made
Make you you come back and let us know what recipes you try and how they turn out! You might want to also take a moment to thank the blogger who created the recipe so they keep sharing their wonderful recipes with us.