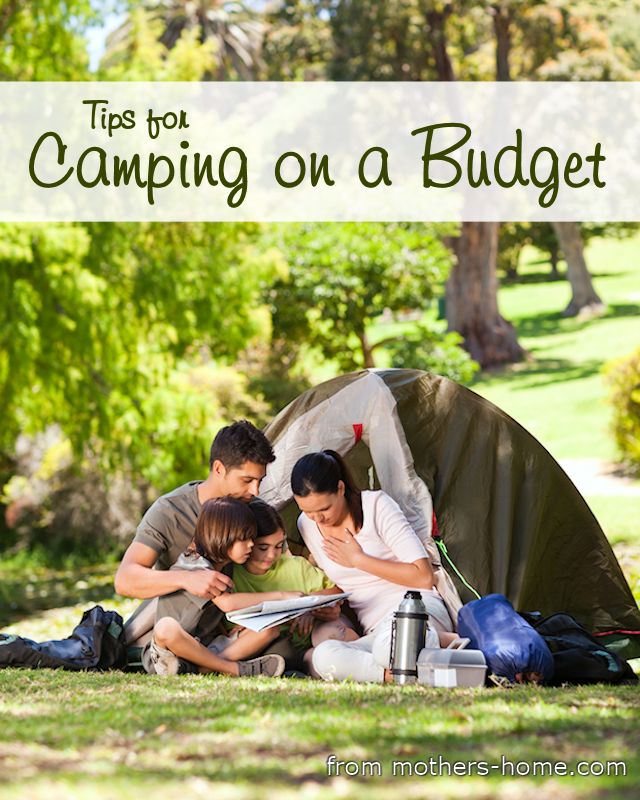 Camping is great way to relax and regroup from the grind of your busy, everyday lifestyle but, if we are not careful, it can put a crimp in the family budget. Don't mark camping off the list of things to do just because there is a cost. If you careful and plan in advance, your family will enjoy camping on a budget — you can keep the cost down and your stress level too.


Camping on a budget begins at home. With some planning and frugal ideas you can keep the cost low and still make some wonderful memories in the process. As a matter of fact, you can make memories and teach your children some great tips on frugal living which they will carry with them for the rest of their lives.
The gear you need for camping just might be the most costly part of planning a trip but there are many ways you can save on camping equipment. I suggest trying to find second hand equipment. Garage sales and thrift shops often have camping gear that has minimal wear and tear and many years left in it. You might also want to talk to friends to see if they have anything they don't use any more or just stuff you could borrow.
I joined a few Facebook groups in my area that offer a way for people to sell things online and have seen a lot of camping equipment lately. If you are on Facebook, search for swap and shop groups that are near you. You can sometimes even find local group pages that announce garage sales. If you are on Facebook, make sure you also follow me! (Note: sometimes I have found it is easier to find Facebook groups by searching Google than by searching Facebook!)
You can also search for other online places to find second hand camping gear. Freecycle is one such place. You find groups in your surrounding area who have items listed FREE! Of course, you can search through Ebay listings also.
Planning your menu and camping snacks in advance is another great way to save some cash.  Make sure that you purchase your food before you leave town to keep from paying small town, convenience store prices. Hamburgers, hot dogs, sandwiches and chips are great for camping on a budget. Anything that can be prepared quickly and is easy to transport will work well. There is no point in serving a three course meal! After all, you are camping, not going to a 5-star restaurant. Spend your time playing, relaxing, fishing and bonding with the kiddos instead of cooking an extravagant meal.
You should pack two coolers for your camping trip. One for food and one for beverages. Believe it or not, this can help you save money in the long run. This is because you will get into the drink cooler more often making the ice melt faster. Which is okay as long as you are not relying on it to keep the food cold enough to stay safe. Make sure you keep your cooler someplace shaded once you are camping to help to ice last longer.
Stick close to home and you will save a ton of money on gas money. Gas money eats away at the family budget anyway and who says you have to travel far to have some fun. Search online for campgrounds near you and check your state's department of tourism to find any state parks or other hidden gems nearby.
If your a newbie camper you might even want to think about pitching a tent in your own backyard. Who says you have to leave home to have a little camping fun! Invite a few friends over, build a campfire, have some s'mores and shut those cell phones off! Spend some time bonding with the kids and telling stories of your youth, ask them about their life and really take the time to listen. Talking, after all, is free. 🙂
If you are planning on going fishing, you can also save some money if you grab your bate before you leave home. Drag the hose out into your back yard and saturate the ground with it in the evening. Throw sheets of newspaper over the saturated ground and wet them down. Set your alarm for the wee hours of the morning, just before the sun comes up, and you should be able to scoop the worms right up. Have a small tub (like an empty margarine container) will some moist dirt in it waiting to hold the worms.
If you think about it, you will actually be saving money by fishing if you are lucky enough to catch something! If everyone catches a few fish you may be able to make a meal. Just don't plan on catching your supper because, if the fish aren't biting, you me be one hungry camper!
I hope this list will help motivate you to plan a camping trip with your family. If you have any frugal camping tips and tricks, please take a moment to share them using the comments feature below!